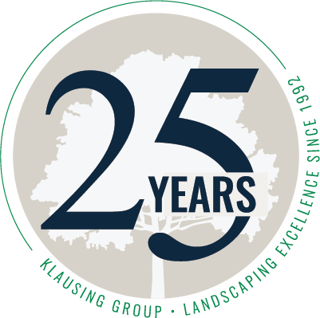 It all started by planting a seed—then nurturing and growing it into a sustainable business that's making a difference in Central Kentucky.
Klausing Group was founded 25 years ago by brothers Roscoe and Brook Klausing as a landscape maintenance service for locals in Lexington. Over the years, the company has evolved from a startup to a multi-service professional firm focused on serving commercial property owners and facilities managers.
People have always come first. Since the beginning, Klausing Group has focused on hiring talented technicians and specialists—and today we have more certified industry professionals on staff than any other landscape company in Kentucky. Also, our footprint has expanded in terms of service area and our actual facility. We upgraded our headquarters four times and opened a Louisville office.
Klausing Group is committed to setting a higher standard for the green industry, from implementing green infrastructure projects to earning national recognition for being a safe workplace. More than 500 people have attended educational events at our facility in the last three years alone.
Who Is Klausing Group?
Klausing Group is a green industry leader based in central Kentucky. We serve our customers and community by managing and constructing landscapes that "do more," and we achieve that through our focus on sustainable services and green infrastructure. Klausing Group's two service divisions are Commercial Grounds Management and Construction. We employ more than 70 talented professionals and serve in excess of 150 properties in the greater Lexington, Louisville and Elizabethtown areas. It takes vision, dedication and time to achieve success. Let's take a look at how Klausing Group has grown over the years.