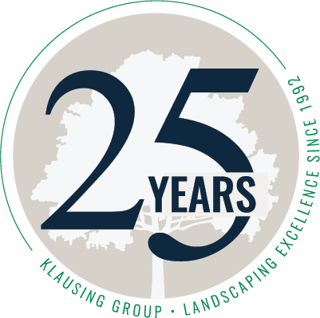 It all started by planting a seed—then nurturing and growing it into a sustainable business that's making a difference in Central Kentucky.
Klausing Group was founded 25 years ago by brothers Roscoe and Brook Klausing as a landscape maintenance service for locals in Lexington. Over the years, the company has evolved from a startup to a multi-service professional firm focused on serving commercial property owners and facilities managers.
People have always come first. Since the beginning, Klausing Group has focused on hiring talented technicians and specialists—and today we have more certified industry professionals on staff than any other landscape company in Kentucky. Also, our footprint has expanded in terms of service area and our actual facility. We upgraded our headquarters four times and opened a Louisville office.
Klausing Group is committed to setting a higher standard for the green industry, from implementing green infrastructure projects to earning national recognition for being a safe workplace. More than 500 people have attended educational events at our facility in the last three years alone.
Who Is Klausing Group?
Klausing Group is a green industry leader based in central Kentucky. We serve our customers and community by managing and constructing landscapes that "do more," and we achieve that through our focus on sustainable services and green infrastructure. Klausing Group's two service divisions are Commercial Grounds Management and Construction. We employ more than 70 talented professionals and serve in excess of 150 properties in the greater Lexington, Louisville and Elizabethtown areas. It takes vision, dedication and time to achieve success. Let's take a look at how Klausing Group has grown over the years.
We're celebrating 25 years!
Join us as we reflect on some of the last quarter century's milestones.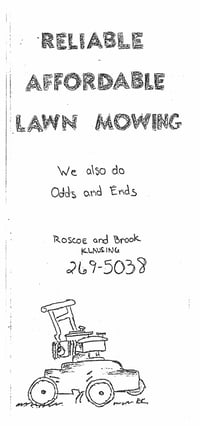 The Early Years
1992 - Klausing Group is founded by Roscoe and Brook Klausing, who created their first flyer to get business from locals in Lexington.
1993 - No more using dad's mower! "It's getting too much wear and tear," he told the boys. They bought a Honda HR215 PX, their first piece of equipment.
1994 - A company logo is designed, just in time for the first truck and trailer. A witty flyer says, "We'll cut class to cut your grass." (The Klausing boys are still in high school.)
1995 - Capacity builds and the Klausings decide to keep business close to home by hiring their neighbors, Matt Ransdell and Jake Royce.
1997 - Time to add an "Inc." to the business, and change the name to Klausing Lawn & Landscape to accurately reflect their expanding service offerings.
The Move to B2B
1998 - The Klausings move out of their parents' garage and into a leased facility at the same time they buy their first commercial truck—and earn three commercial accounts. Those were Plasma Alliance, Coca-Cola and the Francis Whitman Building. Klausing Lawn & Landscape rolls out snow services this year.
1998 - Focused on professionalism, Klausing Lawn & Landscape joins what is now the National Association of Landscape Professionals (NALP). Commercial business grows as the company begins subcontracting for local landscape architects and landscape designers, including Richard Weber of Springhouse Gardens and Louie Hillenmeyer of Louis' Flower Power Shops.
1999 - Industry consultant Jim Paluch is inspired by Roscoe and Brook's story and is inspired to write Growing Dreams, about two youngsters who set out to take over the world by starting a landscaping business.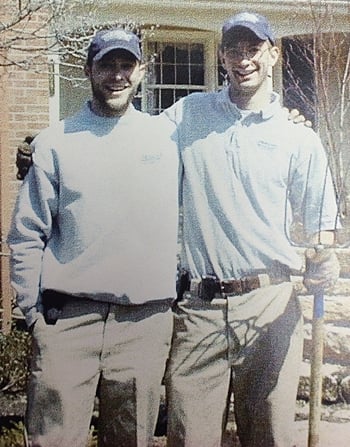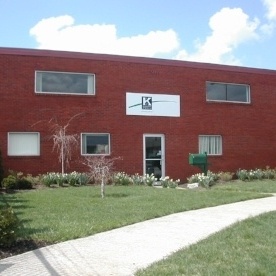 The First Landscape Certified Professional in Central Kentucky
2000 - The first official business plan is hatched, with a goal to shift the business toward 100% commercial. Meanwhile, Roscoe becomes the first Landscape Industry Certified Professional in Central Kentucky. This sets the tone for the company's commitment to education and certification. Klausing Group has supported the professional certification of more EEs than any other Kentucky landscaper.
2001 - The company rebrands to Klausing Group and rolls out a new look. By the end of 2001, it completes its strategic initiative to become solely B2B with a focus on commercial grounds management. The Planting Ideas quarterly gardening newsletter is introduced as an educational tool for clients.
2002 - Brook Klausing leaves Klausing Group and moves to New York City, where he starts Brook Landscape. Meanwhile, Klausing Group outgrows its first facility and moves to a new location. The company is a finalist for the Small Business of the Year from the Greater Lexington Chamber of Commerce. And, an initiative to give back to the community is launched: 5% For the Community.
A Growing Commitment To Safety and The Environment
2004 - Klausing Group is on the move again after growing out of its second facility. This year, the company is named Small Business of the Year.
2007-12 - Klausing Group's commitment to safety and environment improvement is recognized by NALP, which grants the company with numerous awards. In 2008, Klausing Group again moves, this time settling into its fourth facility. By then, the client list had topped 100.
2013 - Klausing Group completes an extensive green infrastructure project at its Lexington headquarters, setting a precedent for sustainable landscaping in Central Kentucky and beyond.
2014-15 - The company wins four Lexington Environmental Commission awards during this time and is awarded the title of Elite Partner by Bluegrass Greensource. To expand its service footprint, an office is opened in Louisville. Roscoe Klausing is named an industry trailblazer.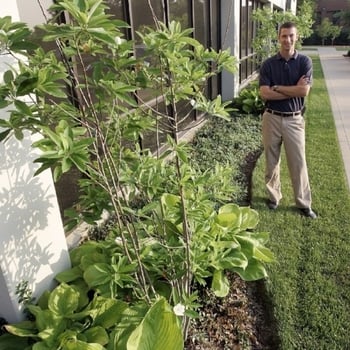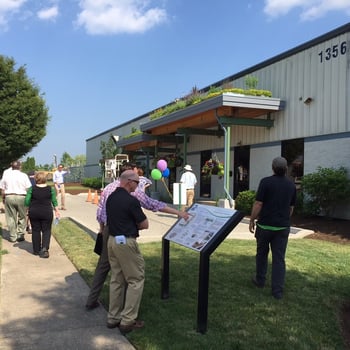 Landscape Construction Division Launched
2015 - Klausing Group's landscape construction division is launched to serve construction managers and general contractors. The company is an early industry adopter of E-Verify, a system to confirm the employment eligibility of their staff. The voluntarily commitment to this system underscores Klausing Group's commitment to hiring team members of integrity and quality.
2016 - Klausing Group hosts the National Association of Landscape Professionals (NALP) facility and green infrastructure tour. This elevates the guest list of attendees at Klausing Group education sessions to 500 people within three years. Meanwhile, the company wins an Environmental Pacesetter Award from the Kentucky Department of Environmental Protection.
2017 - Happy Birthday, Klausing Group! We're 25, and we're not done yet. We have plans to keep growing, serving the community, and creating opportunities for our people.
Looking Ahead—Strategy for Success
2018 - 2025 - Klausing Group has a long-term vision for how we want to look tomorrow and well into the future. Our accomplishments during the last 25 years are a credit to our commitment to the vision, thoughtful planning and teamwork. During the next decade, we'll continue expanding into new communities and offering more sustainable services. It's all about improving our clients' quality of life, creating a workplace with fulfilling careers, and preserving our environment. Every day, we're considering how the work we do can provide so much more than curb appeal.
Thank you to the many many people who have worked with us, hired us and contributed in other ways to help us grow into the company that we are today.