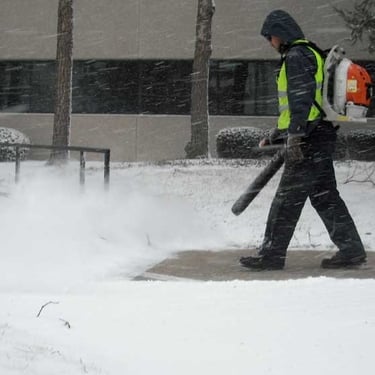 Predicting the weather is nearly impossible. If you pay per push, you probably budget for snow removal based on past winters' expenses.
Where does your snow removal budget stand at mid-winter? Did you allocate enough to keep your property clear and safe, or are you realizing now that your budget might not be enough to get you through the rest of winter?
Don't worry, there are effective strategies to stretch your remaining dollars further.
The good news is you can still keep your property safe for pedestrians and vehicles while saving money by following these three strategies:
Can you reduce your service areas?
Does every square foot of your parking lot need to be cleared?
Some property owners choose to pay more attention to high traffic areas like main parking lot aisles and thoroughfares while limiting plowing services in less active areas like boundary parking lots.
Identify low priority areas and limit parking during snow events, but make sure to communicate with your people so they are aware of the changes. Your snow contractor should be able to provide you with maps detailing service boundaries.
Can you reduce your scope of service?
Do you have a trigger depth for service, or do you receive service as soon as it starts to snow?
By delaying service until 1" or 2" of snow have fallen you can save money by not receiving service on smaller snow events. However, this strategy does come with some risk since your property will have untreated snow and ice accumulation for periods of time.
Can you adjust other budgets?
You might not have the flexibility to add to the snow removal budget mid-season. However, you can review your annual landscape budget and make reductions from spring and summer projects to compensate for increases in your snow budget. Safety first; snow services prevent accidents and reduce liability.
Looking ahead to next season, you can reduce your budget uncertainty and risk by choosing a seasonal snow contract. This way, no matter how much it snows, your price for services will be steady.
No surprises. After a light winter, you might be templated to choose a per push contract.
But the advantage of a fixed cost snow removal contract is that you'll never have to worry about your budget running thin. Winter is unpredictable, but your snow budget doesn't have to be.
Have questions? We'd love to hear from you. Call us any time in Lexington at 859-254-0762 and Louisville at 502-264-0127. Or fill out this contract form and we'll get in touch with you.