Rain gardens are a sustainable landscape solution for managing stormwater run-off, and they range from simple ornamental gardens designed to tolerate water in low-lying swales, to bioswales that naturally filter water, and more robust green infrastructure that removes particulates and oils through water quality units. Rain gardens vary in size and scope, but they all share a common purpose:
Absorb water and allow it to percolate

. If your rain garden holds water like a pond or bog, it is

not

a functioning rain garden.

Filter contaminants

. Remove sedimentation and debris from stormwater run-off to improve water quality. Rain gardens can use natural filters (plants) and green infrastructure filters that collect contaminants in a receptacle. Often, more sophisticated rain gardens use both of these filtering methods.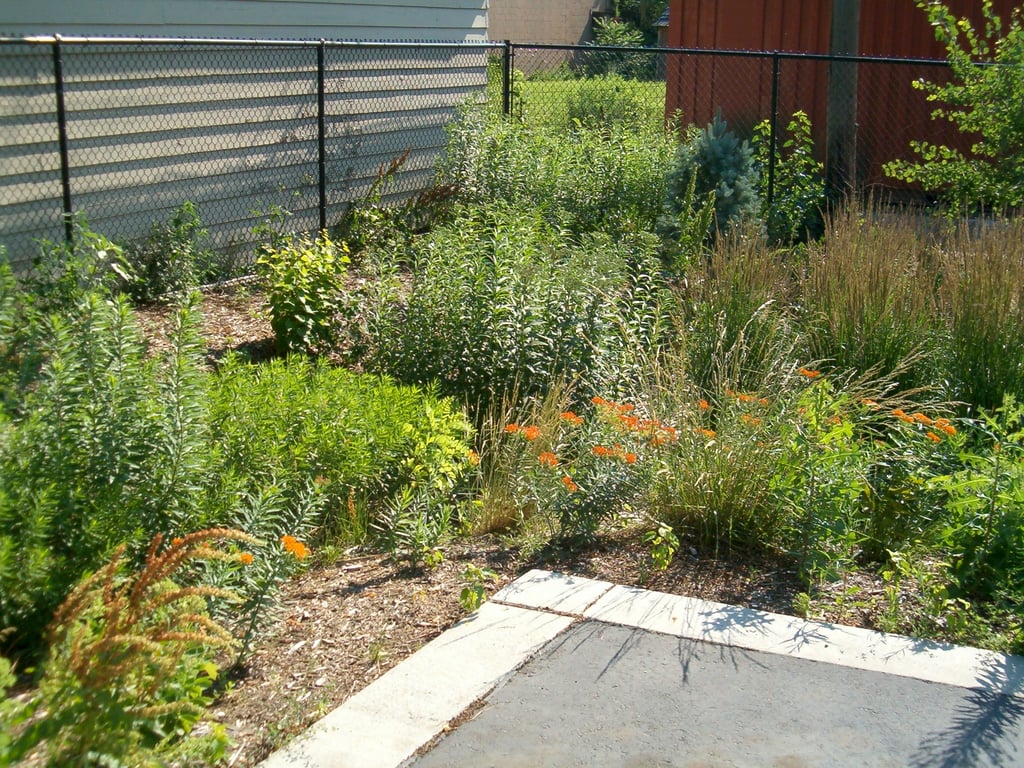 Ultimately, creating a rain garden on your Kentucky property will provide stormwater management and water filtration benefits. An experienced landscape contractor with knowledge of rain gardens and green infrastructure can guide you toward the best approach—simple, intermediate or advanced. Simple rain garden: On a residential property, a simple rain garden can be a depression in the land where grass and plants grow and help filter water that naturally collects after rainfall. A low-lying spot in a yard with turf that is struggling can be transformed into a rain garden by selecting native plants that thrive in extremes—very dry or swamp-like conditions. (If you think about it, a rain garden is either in drought mode when there is lack of rainfall, or filtering lots of water that rolls into it.)
Intermediate rain garden: You'll also hear rain gardens referred to as bioswales. A larger rain garden can appear like a detention pond—but one that effectively absorbs and filters water run-off. Through plant selection, you create a rain garden that is a natural habitat.
Advanced rain garden: By including water quality systems, a rain garden becomes a true, functional piece of green infrastructure that ties into a property's stormwater system. For example, at Klausing Group's Lexington headquarters, our rain garden is constructed with a settling area with a natural and constructed filtration system that captures sediments, floatables (cups, trash) and other debris that can wash into drain systems. Klausing Group's rain garden can hold about 2,000 gallons of water. When the level exceeds that point, water enters the water quality unity, which filters out fine particulates. That unit includes a collection bag that must be cleaned periodically. (See our note about rain garden maintenance below.)
Busting Two Rain Garden Myths
While rain gardens serve as a natural water filter and are planted spaces on your property that deliver environmental benefits, they are not "au natural" in the sense that anything goes. Plant selection is intentional. And, there are even soil specifications for creating land that will allow water to effectively percolate while trapping contaminants. Also, rain gardens are not maintenance-free. Like any landscape feature, rain gardens do require care.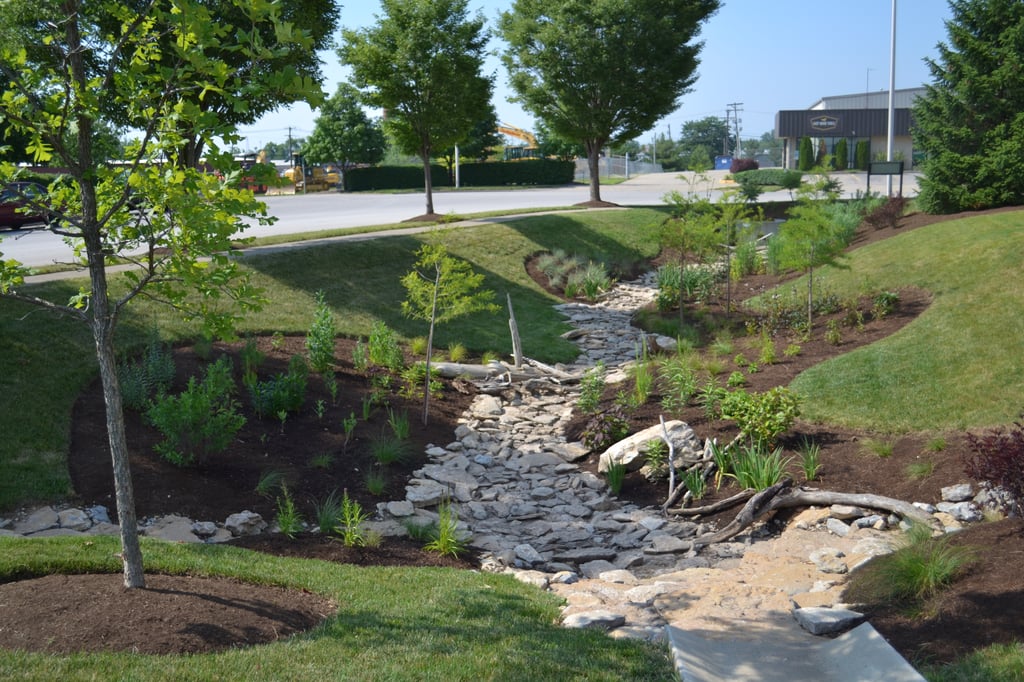 Here are a few more notes from our team on rain garden infrastructure and maintenance so you can get a better idea of the science and skill behind creating and sustaining an effective rain garden.
Rain Gardens Involve Infrastructure
There's more to a rain garden than a sunken area of land filled with plants (and sometimes water). Rain gardens require that soil properly absorbs run-off, and the Kentucky ground is not naturally made up of "accepting" soils. So, existing soil in the rain garden may be removed and replaced with an appropriate soil mix. There are actual construction specifications for establishing an effective rain garden that experienced landscape companies use when planning the space. And, because every property is different, the landscape's variables factor into the rain garden design: gradient (the actual slope/detention area), soil quality, sun and wind exposure, and overall topography. What we're saying is, there's so much more to a rain garden than planting perennials and grasses in a low-lying area and allowing water to collect there. Remember, if a rain garden is holding water—it's not a rain garden!
Rain Gardens Require Maintenance
Natural filters need to be cleaned out in the same way that physical green infrastructure does. By natural filters, we are speaking of the soil and plant life in a rain garden that function to absorb water and filter contaminants. Over time, sedimentation like debris and particulates will collect. Beyond basic landscape maintenance tasks such as caring for perennials that might grow in the rain garden, or cutting back ornamental grasses, you also must plan to rake up and remove sedimentation to keep the rain garden "system" working properly. Ideally, this is at least an annual maintenance event, though ongoing upkeep will prevent a buildup of sedimentation.
Want to know what happens when sedimentation collects to the point of stopping a rain garden from functioning? You could have to tear out the plants, re-install the proper soil base and then re-plant the rain garden.
From a time and budgeting perspective, simply plan on maintaining your rain garden so you can avoid a renovation project down the road.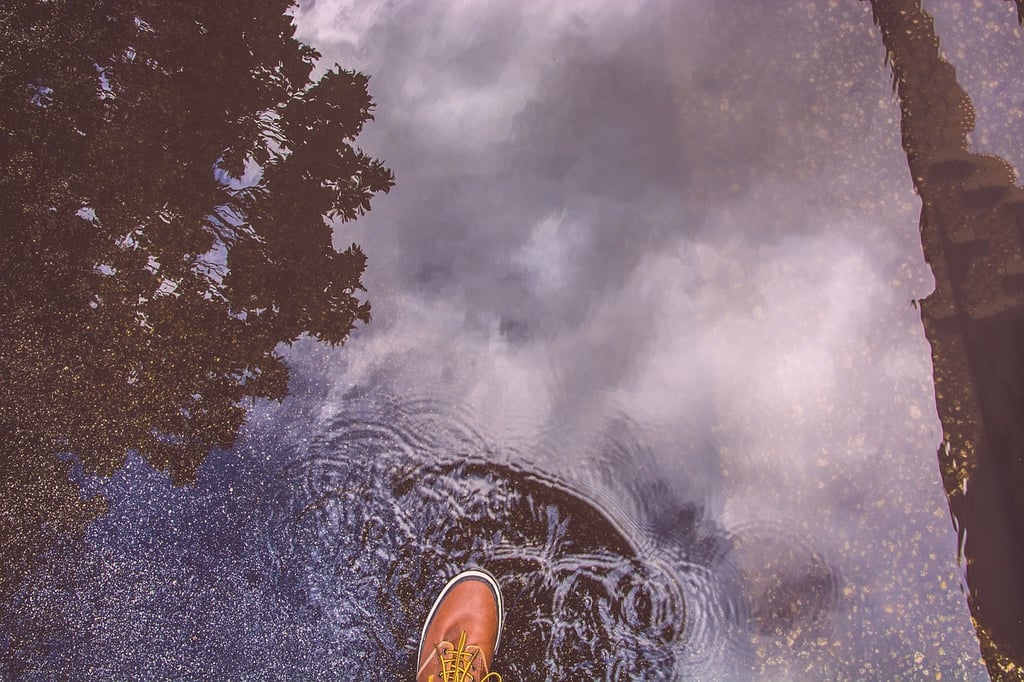 Rain Garden Benefits
Why create a rain garden on your Kentucky property? Rain gardens provide a number of benefits. Those include:
Prevent rainwater run-off from entering the stormwater sewer system

Filtering rainwater run-off before it reaches stormwater sewers and waterways

Protecting communities from drainage problems and flooding

Increasing groundwater flow

Creating natural wildlife habitats

Improving the way a landscape functions with effective green infrastructure
Defining What Rain Garden Means For Your Kentucky Property
With a rain garden, you can make a positive impact on your community's stormwater management. They are an important part of your property's overall green infrastructure. Rain gardens create beneficial wildlife habitats and serve the functional purpose of improving drainage, reducing flooding and filtering water.
Let's talk about the right type of rain garden for your Kentucky property. Ask us anything about rain gardens—our experts are here to help.
Call us any time at 859-254-0762, or fill out this simple contact form and we'll get in touch with you.