Meeting High Standards at Lexmark World Headquarters
Klausing Group partnered with architectural engineering firm and general contractor, Denham-Blythe Company, on a highly visible front lobby and entrance renovation project.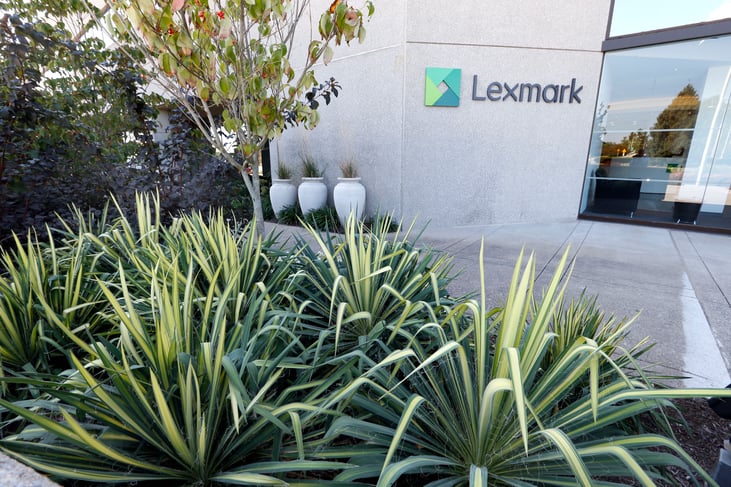 The entrance to Lexmark global headquarters got a significant overhaul that included designing and installing landscape in this high-visibility space. From floor-to-ceiling conference room windows, executives negotiating multimillion-dollar deals can see the view outside—and visitors from around the world who walk to the front doors of Lexmark pass through the thoughtfully landscaped area.
Denham-Blythe Company served as general contractor on the extensive project, with a scope that included major renovations to the interior (conference room, lobby, restrooms, executive briefing center) and exterior entrance. The firm partnered with Klausing Group to design and execute the landscape portion of the project, which included hardscape and irrigation.
"One of the most rewarding aspects of this job was transforming the entrance of a global headquarters into a space that was more attractive and welcoming," says Dan Stever, director of employee development and outreach at Klausing Group.
Klausing Group's Trenton No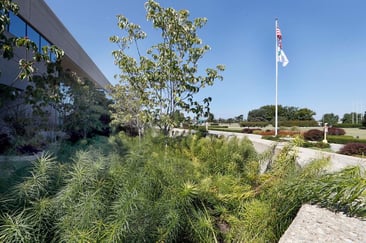 el served as the direct supervisor on the project. "Denham-Blythe put faith in us to complete this project in a timely manner," he says. "We were able to successfully execute the job by working together as a team," he says.
A project of this stature comes with challenges: tight deadlines; coordinating installation efforts to work around other contractors on the site; realizing Lexmark's vision for its entrance; and ensuring complete professionalism during the process.
The work site was visible from the conference room, so the crew was essentially "on stage" during the installation process. "We had to be very aware of the manner in which we conducted our work," Noel points out.
A professional approach, open communication and understanding of complicated commercial construction requirements was critical for succeeding on a complex project. "We are always ready to rise to a challenge," Noel says.
Damon Durrum, Denham-Blythe's field superintendent, notes: "Working with Klausing Group was like one-stop shopping because they are a design-build contractor with experience and they just work well with Denham-Blythe."
Qualified To Serve General Contractors
Even an excellent landscape firm can fail on a commercial construction site because completing complex projects and working with general contractors requires an entirely different set of expertise that goes beyond horticultural knowledge.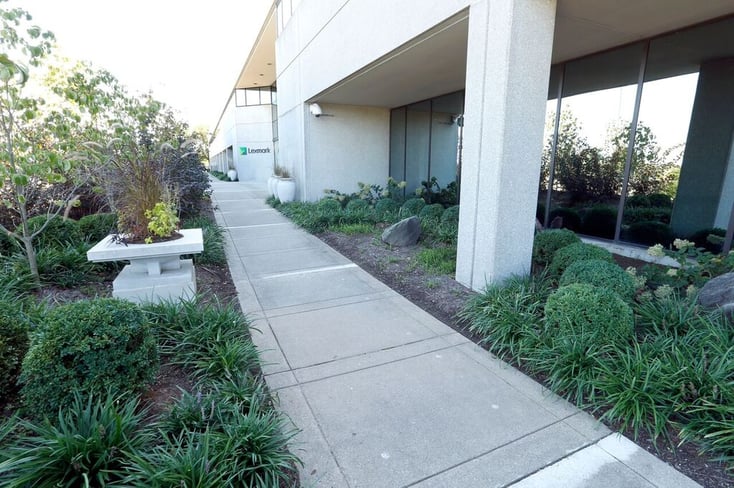 "There are very few landscape contractors who are qualified to operate in the commercial construction realm, which has higher compliance standards, unique operating procedures, and a complex communication system," says Roscoe Klausing, president, Klausing Group.
"To work effectively with general contractors and construction managers, landscapers must have proven safety programs and favorable workers' compensation experience modifiers (E-Mod Rates)," Klausing says.
"Projects often require staff to hold OSHA 10-hour certificates and be enrolled in drug and alcohol screening programs," he continues. "Once the project begins, landscapers have to be familiar with AIA contract documents and the Construction Specifications Institute's (CSI) MasterFormat work classifications system in order to communicate effectively with other contractors. This is all in addition to the professional standards established through National Association of Landscape Professionals NALP certification."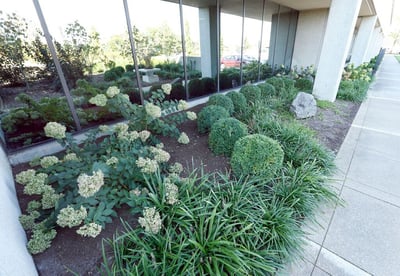 Denham-Blythe Company was seeking all of these qualities plus an excellent reputation in its landscape design/build partner. Denham-Blythe has provided architectural, engineering and construction management, general contracting and start-up services since 1976. Its clients range from Fortune 500 manufacturers to major healthcare institutions and multinational companies.
Durrum says Klausing Group "does what they say they are going to do, when they say they are going to do it." He emphasizes the importance of communication with Denham-Blythe and understanding the intricacies of a large-scale commercial construction project.
Klausing Group's ability to manage the landscape requirements from design to completion made the firm an ideal partner, Durrum says.
Diligence Behind The Scenes
Beyond meeting construction standards, Klausing Group was charged with ensuring that the landscape could be low-maintenance and attractive. Native plants were installed throughout the property, Noel added.
Meanwhile, an architectural feature of the Lexmark building with a second-story overhang prevents rain and sun from reaching a prominent ornamental planting bed. Careful plant selection and installation of an irrigation system were critical to ensuring that plants not exposed to rainfall and sun have the same appearance as those that are.
"This area never sees sunlight and never receives rain," Noel points out. "We needed plants that would not block views from windows, and we had to install an irrigation system that would keep plants thriving and watered without causing issues like irrigation head breaks or spray on windows."
Klausing Group put in a drip irrigation system in the planting beds and beneath the lawn that not only conserves water yet is essentially sight unseen. "You don't see it, hear it or know it's there," Noel says. "But it is there, and it's doing its job."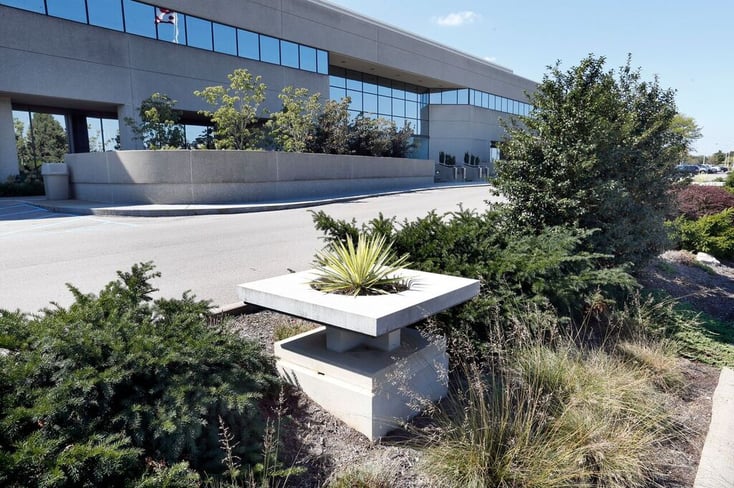 This irrigation concept was also employed in the 10 Longshadow custom-made cast limestone planters that each weighed several tons. "The client did not want to have to water the planters, so we included drip irrigation tubing that runs through the planter base and up into the structure to keep plants watered," Noel describes.
The job of installing these planters called for cooperation between Klausing Group and Denham-Blythe contractors that prepared the ground for the extremely heavy urns. They were placed on concrete bases and craned into place. "These expensive, high-quality planters came with significant shipping costs and were equipped with specialized moving straps so we could maneuver the planters and put them into place without damaging them," Stever relates.
The statement planters are a focal point in the entrance landscape.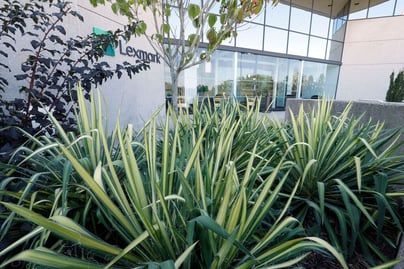 This task speaks to the importance of open, constant communication among contractors on site, plus cooperating with the general contractor, Denham-Blythe, to ensure that the proper equipment and preparations were complete to successfully execute it.
"The behind-the-scenes logistics are incredibly complicated—including record-keeping and various submittals—and very few landscape companies have the infrastructure to process the administrative requirements for these types of projects," Stever relates.
Durrum says Klausing Group was an ideal partner because of their experience. "Their communication with me as field superintendent was great, and they provided answers to questions when we needed them and quick turnaround on deadline," he says.
Klausing adds that commercial construction projects of this scope require a hands-on approach. Denham-Blythe could rest assured that Klausing Group was on site and well-versed in standards and codes. No handholding required. Being merely competent is not enough to execute a complex commercial construction project.
"General contractors need a true partner on these types of projects—a landscape provider that understands commercial construction codes, can respond to changes quickly, and meet tight deadlines," Klausing says. "Ushering a project of this scope to completion requires total accountability and professionalism. Ultimately, it takes a landscape firm who knows 'how the game is played' and takes a hands-on approach to achieving the goals."