As a construction manager or general contractor, we understand you are looking for competitive pricing and a skilled team with the proper qualifications, excellent communication and experience. At Klausing Group, we believe you should ask more of your landscape, and of the provider you partner with to serve your commercial landscape construction needs. Our company is specially qualified to manage complex, large-scale commercial construction projects, especially those including green infrastructure and stormwater management components like rain gardens, bio-swales, rooftop gardens, and rainwater harvesting.

Qualified To Serve General Contractors
The commercial construction realm has high compliance standards, unique operating procedures and a demanding communication system that requires a detailed paper trail. Complex construction projects can require that contractors hold OSHA certificates, be familiar with American Institute of Architects (AIA) contract documents, and understand the Construction Specifications Institute's (CSI) MasterFormat work classifications system.
Klausing Group meets these standards and has the financial stability to acquire bonds. We understand the way commercial construction gets done.
Promoting Safety and Certification To Reduce Risk
Klausing Group's workers compensation experience modifier has been less than "1" for the last three years. We're proud of our 0.75 e-mod rating, which means we reduce risk for commercial contractors who hire us for landscape construction projects of all sizes. Our team members hold OSHA certifications and many of our employees are Landscape Industry Certified by the National Association of Landscape Professionals (NALP).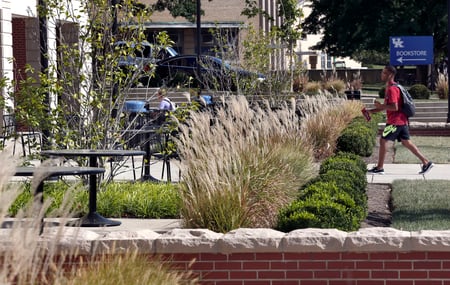 Our Drug Free workplace, use of E-verify for ensuring legally documented workers, and rigorous background checks assures clients that Klausing Group is promoting a safe work environment and delivering on quality standards.
Managing Projects—From Design To Completion
As a full-service commercial landscape provider, clients can depend on Klausing Group to manage a project from beginning to end. That includes creating designs to specifications, getting necessary approvals, overseeing compliance inspections and executing the landscape installation. Constant communication, timely follow-up and systems for efficiently running all sizes of commercial landscape projects ensure quality results. You can trust that we'll be with you through all the punch lists and warranty claims.
Building Your Business
Find out why making Klausing Group part of your commercial construction team is a wise business decision for you and your customers. Let us give you a tour of a completed project, and show you how green infrastructure works at our headquarters. Contact us at 859-254-0762 (Lexington) or request a proposal today.