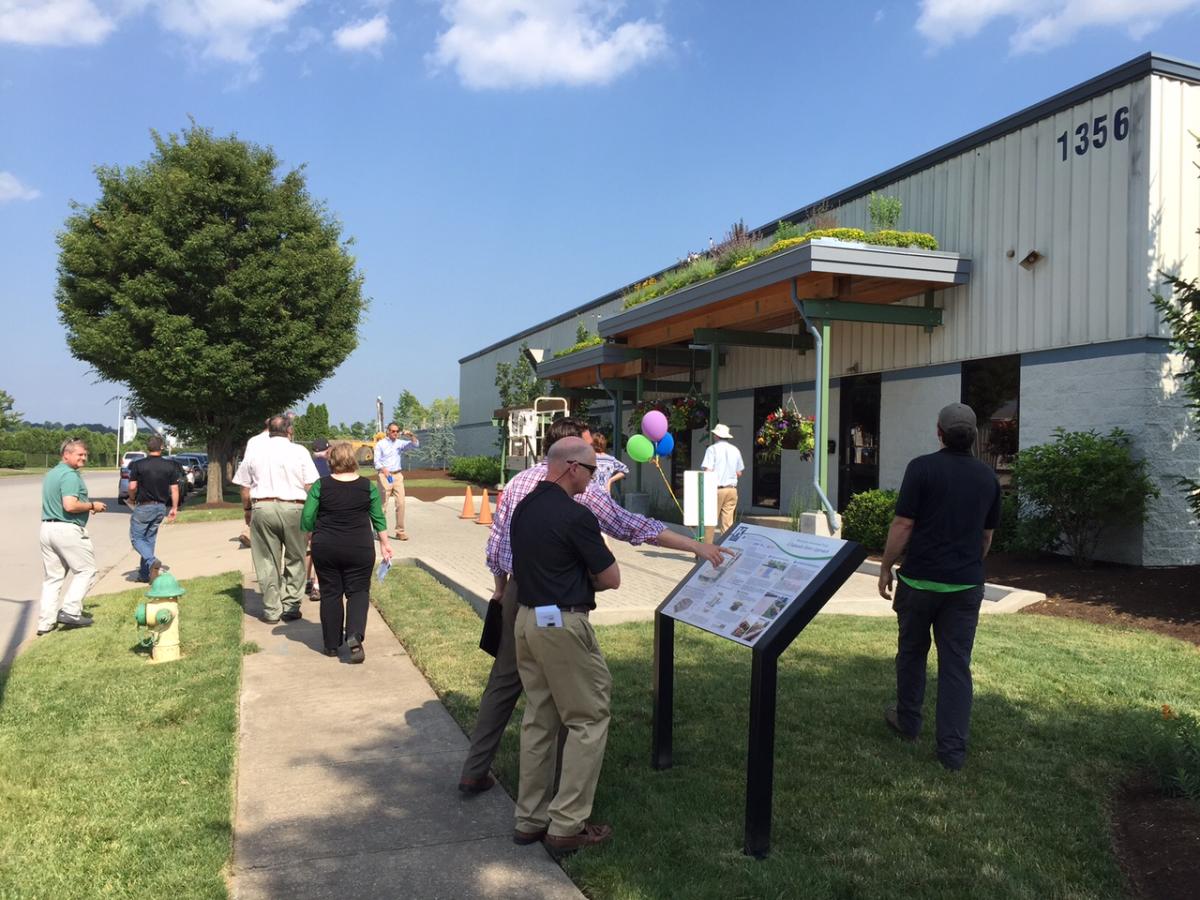 We just hosted one of the coolest events. The Kentucky Chapter of the U.S. Green Building Council, the organization responsible for LEED certification, gave us the opportunity to host a project tour, continuing education presentation, and networking event at our Lexington office. It was a real pleasure to host the progressive, forward thinking design and construction professionals of this industry and to be able to show off a little of the work we've done at our headquarters. Here's how it all came to be.
In the fall of 2008, at the height of the financial crisis caused by the mortgage industry, I decided to buy my first piece of commercial real estate. Probably not the best timing, but Klausing Group needed more space and I ended up with a great two acre property near downtown Lexington.
Just a year or two after settling in to our new location, it became clear that we needed an employee parking lot. We retained Scott Southall and Jason Hale of CDP Engineers to design a simple, cost effective, traditional parking lot. With surveys done, plans stamped, and SWIPS ready to go, we were ready to apply for a soil disturbance permit. Everything got put on hold when we caught wind of Lexington's first-ever request for stormwater incentive grant applications. We put our heads together and decided that with Klausing Group's new location situated in a heavy industrial park and only two-tenths of a mile from McConnell Springs, our city's first settlement, we should apply for one of the grants. We changed our project to include some stormwater BMPs, swung for the fence, and we hit a home run.
I didn't know much about stormwater management when this endeavor began but I've come to be very passionate about not just stormwater management, but the broader role green infrastructure can play in our communities. It's time for design professionals, contractors, and property to owners to ask more of their landscape.
Last night, members of the green design and construction community got to see first-hand green infrastructure and its ability to provide multiple economic, environmental, and aesthetic services where traditional infrastructure may provide only one. Attendees toured our facility's rainwater harvesting system, permeable parking lots, rain gardens, registered Monarch waystation, water quality unit, and vegetated roof. Of course, it's the "green" elements of green infrastructure that excite me the most and provide the greatest benefits for our communities.
Take, for example, our vegetated roof. This building element previously served only one function: cover the building to keep out rain, snow, and sun. The vegetated roof, however, serves this function with the added benefits of reducing stormwater runoff, improving stormwater quality, minimizing the heat island affect, providing wildlife habitat for beneficial insects and small birds, and being aesthetically pleasing. If our vegetated roof were located over a temperature controlled part of our facility it would provide the added benefit of insulation thus reducing energy consumption. That's no less than five services provided to the community by a building element that previously provided one.
The opportunities for green infrastructure abound and asking our landscapes to provide only curb appeal is no longer enough. If you missed last night's event but still want to see one of the highest concentrations of BMPs in Central Kentucky on one property, come see us during the Garden Tour for Monarch Waystations hosted by the Lexington Chapter of Wild Ones, on Saturday, July 11th.
http://lexington.wildones.org/wp-content/uploads/sites/13/2014/11/Flyer-single.pdf