You want your commercial landscape to make a statement and help you reach your goals — whether that's increasing retail traffic, becoming more sustainable or simply setting your property apart from the rest.
One big way to do that (and make your property look more established) is by installing native ornamental trees.
Ornamental trees bring aesthetic value to your landscape with colorful blooms, leaves or even fruit. And on the practical side, many provide shade and are low maintenance.
Trees are also an important part of ecosystem services, improving the environment and providing habitat — helping your landscape do more than just look good.
Here are nine of the best small, medium and large native ornamental trees for your Kentucky landscape.
Small Trees

Amelanchier
'Autumn Brilliance' (Service Berry)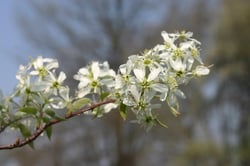 This native tree provides yearlong interest with fragrant white flowers in the early spring, followed by edible berries and orange-red fall color. The tasty berries attract a variety of birds, so your site visitors can enjoy the wildlife views.
The serviceberry, which is usually multi-stemmed, is fast growing and can reach heights of 20 feet. It can tolerate clay soil and is low maintenance.
Chionanthus virginicus
(Fringe Tree)

This tree's creamy white, fragrant flowers will make a real statement on your commercial landscape. The fringe tree produces fruit that attracts birds, and it's also home to several species of butterflies and moths.
The fringe tree prefers moist, well-drained soils and grows up to 20 feet tall. It's slow growing and does best in full-sun to part-shade areas. One bonus is that this tree rarely needs to be pruned.
It's a close relative to the Chinese fringe tree, which is another nice ornamental option.
Rhus typhina
(Staghorn Sumac)

For properties with erosion issues, the native staghorn sumac is a good solution. Although it's good for erosion control, this tree isn't ideal for small spaces since it forms colonies.
The staghorn sumac produces large, red leaves that will bring a tropical look to your landscape. While its flowers aren't showy, they are soon followed by clusters of red fruit that look like torches. The tree and its seeds attract wildlife like native birds and caterpillars.
It's fast growing, reaches heights of 25 feet and tolerant of drought and very poor soils. There are several popular varieties of the staghorn sumac including 'Tiger Eye,' which produces brilliant chartreuse foliage.
Medium Trees
Ilex opaca
(American Holly)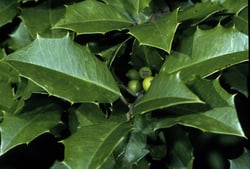 This flowering evergreen produces fruit for wildlife and also serves as an important nesting habitat for many birds. It's a moderately fast-growing tree that reaches 30 to 50 feet in height.
The American holly tolerates moist soils and drought, and it's also resistant to many diseases that kill non-native hollies.
Although this species is often grown with the limbs touching the ground, it can be pruned to create a shaded area underneath it.
Cladrastus kentukea
(Kentucky Yellowwood)

A good shade tree for lawns because of its deep roots, the Kentucky yellowwood grows 30 to 50 feet tall.
Its showy, fragrant white flowers hang in panicles up to 12 inches and are reminiscent of wisteria blooms. These flowers help support native bee populations.
The Kentucky yellowwood has bright golden fall color and attractive smooth bark during the winter.
Acer rubrum
(Red Maple)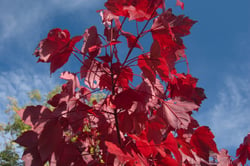 Famous for vibrant red fall color, the red maple also has red flowers each spring. The tree can grow 60 feet tall, with columnar forms that reach about 15 feet wide.
The fast-growing red maple tolerates wet sites better than it does drought. It's home to a variety of caterpillars, including America's largest native moth species: the cecropia moth.
There are many cultivars of this tree available, so choose the one with the look and size that meets your property's needs.
Large Trees
Quercus shumardii
(Shumard Oak)

This native, moderately fast growing tree can reach 60 to 80 feet in height, making it an ideal choice if you're looking to add shade.
This drought-tolerant oak also provides deep, red fall color and acorns. Plus, it's home to a variety of birds and caterpillars — helping your site become the spot for scenic wildlife.
Liriodendron tulipifera
(Tulip Poplar)

Another good shade tree is the tulip poplar, which can reach 60 to 100 feet tall. This fast-growing tree has golden fall color and beautiful flowers.
The flowers grow high on the tree, so while you might not be able to see them as well, they are a favorite of bees, hummingbirds and the eastern tiger swallowtail butterfly. The tree is an important food source for the larvae.
The tulip poplar grows in moist soils but also tolerates drought.
Gymnocladus dioicus
(Kentucky Coffeetree)

As the name suggests, the Kentucky coffeetree is a native species that produces seeds that can be roasted to create a coffee substitute. The tree grows 60 to 80 feet tall and provides light shade.
It has large, tropical-looking leaves and fragrant flowers that aren't overly showy. Even in the winter, this tree is stunning with its bold, architectural bare branches.
The tree comes in both male and female varieties, so install a male one like 'Espresso' if you don't want fruit. This variety also attracts hummingbirds and the eastern tiger swallowtail butterfly, and it tolerates moist soils and drought.
Install the Best Ornamental Trees on Your Kentucky Property
Knowing which trees will thrive on your landscape, give you the visual interest you're looking for and be the right size for your site are things only an experienced landscape company can help you with.
Plus, you want to choose trees that bring environmental benefits to your property, so you need a company that focuses on ecosystem services.
At Klausing Group, our services are based on the motto, "landscapes that do more." So you won't only be getting aesthetically pleasing trees from us, you'll also enjoy ones that make your property more sustainable, support the environment and create habitats for wildlife.
Call our Lexington branch at 859-254-0762, Louisville at 502-264-0127 or request a free proposal online to add some of the best ornamental trees to your property.
Alex Lomas, Flickr CC BY - 2.0 |