The one-size-fits-all approach is never a good selling point when choosing a commercial landscaping company in Lexington, KY.
Your property's needs are unique, so it's important to find a landscape provider that can meet your requirements, whether you're overseeing a manufacturing facility, managing a single shopping center or managing an entire portfolio of commercial real estate.
Two of the most well-respected Lexington-based landscaping companies you're probably familiar with are Henkel Denmark and Stephen Hillenmeyer Landscape Services. In early 2018, Henkel Denmark was purchased by Landscape Workshop and is now operating under that name.

We know them well! Klausing Group has been competing with both outstanding companies for the better part of two decades (which, by the way, is great for Lexington!).
Let's take a look at these two companies side by side (then look at how Klausing Group compares):
Landscape Workshop (Formerly Henkel Denmark)
Owned by McKinney Capital, a private equity group out of Birmingham, Alabama, Landscape Workshop is a full service grounds management company serving the southeast. McKinney Capital purchases companies in various service industries up to $30 million in size. Some of their diverse holdings include: an electrical supply company, a software company, and a DISH satellite provider.
Landscape Workshop (Henkel Denmark) vitals:
First entered the Lexington market in 2018 through McKinney Capital's purchase of Henkel Denmark

7 branches across the southeast


Services commercial property types

Commercial landscaping services include mowing, irrigation management, snow removal, spring and fall annuals, turf care, mulch application, perennial care, leaf removal, tree services, field mowing and

plant installation
Stephen Hillenmeyer Landscape Services
The roots run deep — nearly two centuries — with this landscaping company in Lexington. During that time, they've worked in every area of the landscape and nursery industries.
Currently led by Stephen Hillenmeyer, the company is transitioning to the sixth generation, Chase Hillenmeyer. This company is a household name throughout Lexington.
Stephen Hillenmeyer vitals:
175 years of experience (wow!)

Services commercial, residential and equine property types

Commercial landscaping services include mowing, trimming, edging, weed treatment, fertilizing, mulching, plant installation and

snow removal.

Notable projects include Darley Farms, UK Athletics Department and St. Joseph Office Park
Landscape Workshop (Henkel Denmark) Vs. Stephen Hillenmeyer (Vs. Klausing Group)— The Difference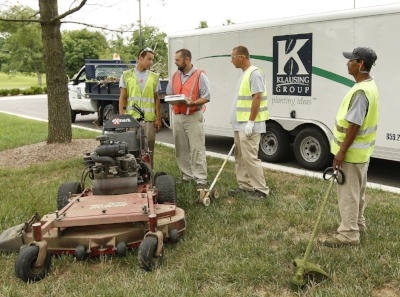 So, what separates these two respected Lexington landscaping companies? Here's our take:
As a new comer to the Lexington commercial grounds management scene, Landscape Workshop brings with it 30 years of southern landscape experience to its farthest north location. Bottom line: A professional company offering a variety of facility services, Landscape Workshop is a regional service provider.

Beyond Stephen Hillenmeyer's long local history and experience, the company is also known for its equine mowing division and Weed Man and Mosquito Authority franchise operations. Bottom line: Long known as a price leader, Stephen Hillenmeyer has really sharpened their pencil. Because of the the grand scale of their mowing operations and the franchised lawn fertilization and weed control and mosquito services, they're an economical solution for many services.
Find A Partner That Understands Your Commercial Landscape
As noted, both landscape contractors service a variety of property types — residential, commercial and equine. And since you are visiting our website, we're going to assume that you most likely oversee a facility of some kind or manage a portfolio of commercial properties in Lexington, KY. If this is the case, we suggest considering a landscape provider who focuses solely on maintaining commercial properties like those you oversee.
Maintaining the grounds of a manufacturing plant or hospital or an office park takes an entirely different skill set (and mindset) compared to, say, working in a homeowner's backyard. Bottom line: This is where we at Klausing Group excel.
Yes, after 20+ years serving Lexington and partnering with Fortune 500 companies, we unabashedly consider ourselves to be the best commercial landscape services provider in the area. And we'd love to prove it to you!
If you are a facility or property manager seeking a landscape provider who truly understands your commercial property's unique needs, let's talk. Contact our Lexington branch at 859-254-0762 or request a proposal here.