Following summer, the lawn on your Kentucky property has weathered heat, dry spells and high traffic. The natural consequence of these inevitable conditions is tired-out turf. We're talking about bare spots and thinning grass. Insects and disease can also take a toll on lawns.
The good news is, rejuvenating your turf and restoring its healthy, green luster is possible this fall, and there are a couple of different approaches for accomplishing that. Power-seeding uses a machine that slices into the lawn, cutting a slit into the soil. The grass seed is then mechanically deposited into the soil. Aeration involves removing cores of grass and soil to allow water, air and nutrients to reach plant roots. When coupled with over-seeding—dispersing seeds into freshly aerated ground—the result is a property that's well prepared to support new turf growth.
The question is, what's a better choice for your property: power-seeding vs aeration with overseeding?
Let's explore the benefits of each seeding process and how to determine which method is best for your Kentucky lawn.
Power-Seeding: A Targeted Approach To Planting Grass

Ideal conditions: Power-seeding involves using either a tractor with the machine attached to slice-seed the area. Or, for smaller spaces a stand-alone engine operated system will do the slit-seeding job.
If your Kentucky lawn has bare sections of about 1,000 square feet or smaller, power-seeding is an efficient and reliable way to establish grass seed more quickly than traditional broadcast seeding. Why? Because power-seeding injects seed directly into slits in the soil. Seed-to-soil contact is critical for germination.
Recommendations: We suggest power-seeding lawn areas that are completely dead, or bare spots in the lawn. Because power-seeding is more expensive than aeration and over-seeding, this practice is not ideal for seeding entire commercial properties.
Power-seeding is efficient and delivers more timely results in terms of germination and new grass growth. Again, that's because seed is dropped into slits in the soil. We use less grass seed with this process because of the targeted approach.
Aeration & Over-seeding: A Turf Best Practice For Kentucky Lawns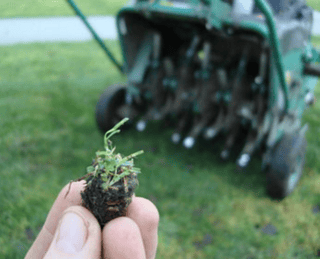 Why annual aeration: Whether or not you over-seed your commercial property, aeration is an annual best practice you should adopt to maintain healthy soil and turf. Our compacted soils in Kentucky need breathing room for grass to thrive! And, aeration improves your lawn's ability to absorb rainfall, reducing stormwater runoff.
Aeration involves mechanically pulling plugs of turf from the ground. Each "core" that is removed will reveal a cork-sized cross-section of what lies beneath the surface. You'll see the grass on top, followed by thatch (buildup of green matter), then soil. These cores are left on the surface of your property and decompose back into the lawn.
The bottom line—all Kentucky lawns need annual aeration. We always recommend it as a cultural practice that helps sustain turf health.
Include over-seeding: Aeration prepares the soil to welcome new turf growth. That's why after aeration is an ideal time to over-seed your Kentucky lawn. Over-seeding is ideal for lawns that are thinning out and need rejuvenation after a long summer. (Most lawns, in our opinion, can use over-seeding to spruce up the overall appearance of turf.)
Also, if your turf faced lots of weed pressure, disease or insect damage, over-seeding is an important step to reclaiming the lawn. Strong, healthy turf can more easily combat weeds, disease and insect on its own. Over-seeding is one of many sustainable practices to achieve an attractive, vibrant lawn.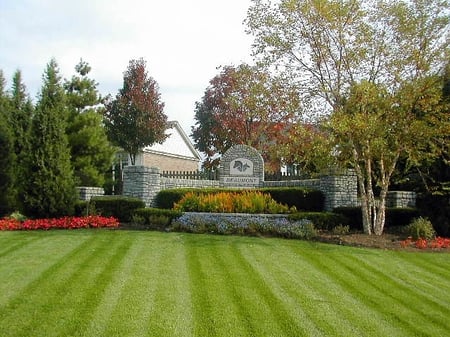 Recommendations: Late August through fall is prime time for aeration and over-seeding because of the cooler nighttime temperatures and increased moisture during this season. Aeration and over-seeding is recommended for entire lawn areas, whereas we would not generally advise power-seeding for acres of property. You'll find that aeration with over-seeding is more affordable than mechanically slit-seeding a lawn.
Decide On A Seeding Strategy
Because no two commercial properties are the same, decisions like how to seed should always be considered on a case-by-case basis. (Sorry—there's no general prescription we can hand out for that perfect lawn!) What's important is to know your options, and to partner with a landscape maintenance professional that can point out the benefits for your grounds.
Let's talk about how you can get green grass growing again on your Kentucky commercial property. Call us any time at 859-254-0762, or fill out this simple contact form and we'll get in touch with you.