Now is the time to secure a contract with a snow removal company so you can ensure that your commercial property will be safe and clear during winter. In Lexington, Ky., there are a number of snow contractors advertising services—how do you know which snow removal company is the best?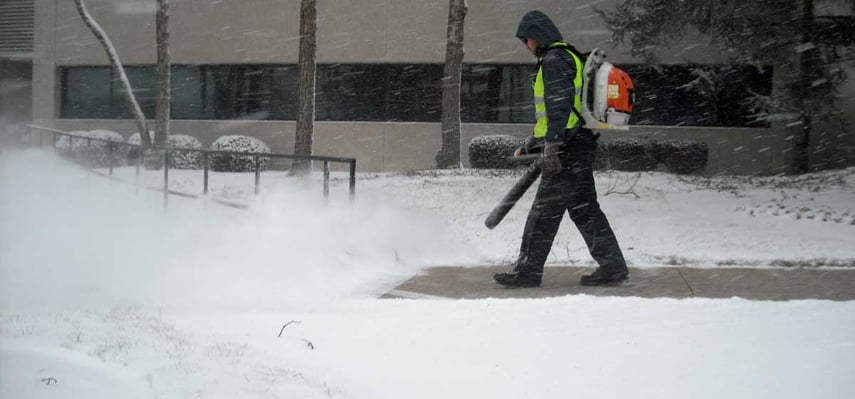 As an experienced landscape and snow removal company in Lexington, we associate with other top-rated snow removal companies and share best practices. We prioritize continuing education and certification through organizations like the Snow and Ice Management Association (SIMA). As professionals, we want to help you select the best snow removal company for your commercial property so you can get the results you expect.
Here is a round-up of the best snow removal companies in Lexington, Ky., with details on what makes them the best.
❄ Lawn Works
Lawn Works is owned by Michael Clarkson, who has been serving the Lexington market for more than 25 years. I know Michael personally—and he is crazy about snow, in a good way! He looks forward to those big snow storms and is beyond prepared. (He even configured the garage in his home to fit a commercial snow truck with a salt spreader and plow so he could be ready to roll out in an instant!) I have never known Mike Clarkson to be late to a snow storm, so you're getting a responsive snow removal company.
Why The Best?
The strengths of Lawn Works are the owner's dedication to snow removal. You can count on Lawn Works to clear your property when a snow event occurs.
What To Consider
Lawn Works services mostly residential clients in Lexington, Ky., though they do clear snow on some notable commercial properties and have maintained those accounts for some time. Customers who hire Lawn Works tend to be loyal, which is an indication of the quality of service provided.
❄ Plot
Plot previously operated as Great Lawn, and when the general manager from Henkel Denmark left to become a partner, the company rebranded to Plot. Plot services residential and commercial clients. The company tends to focus more on property owners that are seeking a boutique service. Plot says it takes a "contemporary approach" to caring for land.
Why The Best?
Plot focuses on attention to detail, and they emphasize personalized service.
What To Consider
Plot seems to mostly focus on landscape design and maintenance—which is the focus of their marketing. While they offer snow to commercial property owners, the bulk of their work is centered on residential customers. (They are trying to grow a greater presence in the commercial market, from our understanding.)
❄ Landscape Workshop (formerly Henkel Denmark)
Landscape Workshop is new to Lexington, Ky. The company is owned by McKinney Capital, a private equity group out of Birmingham, Alabama specialized in purchasing companies in various service industries. They entered the Lexington market in early 2018 by purchasing Henkel Denmark. Landscape Workshop is a provider of facility services to commercial businesses.

Why The Best?
Landscape Workshop brings with it 30 years of service experience from throughout the southeastern United States.

What To Consider
Landscape Workshop is a regional service provide focused in the south and Lexington is its farthest north location.

❄ Hillenmeyer
Hillenmeyer is an industry staple as the oldest landscape firm in the U.S. Stephen Hillenmeyer Landscape Services is one of the largest snow removal companies in Central Kentucky, with a significant fleet of vehicles. Hillenmeyer was founded in 1841 as a nursery, and the current owner is the fifth generation to work in the business.
Why The Best?
Hillenmeyer has the capacity and experience to manage significant commercial properties in Lexington, Ky., and their portfolio illustrates a commitment to quality and service.
What To Consider
Hillenmeyer's snow removal services are largely focused on equine and commercial properties.
❄ Klausing Group
Preparation is what differentiates snow removal services at Klausing Group. We partner with facility managers to develop site-specific snow and ice removal programs so our clients are getting the best snow removal services for their properties. Safety is our focus, and immediate response before, during and after snow events is critical for reducing property owners' liability. Our snow removal process begins long before a storm lets loose. We mobilize before the storm, and our logistics and pre-storm monitoring ensures clients their properties will safe and clear no matter the weather conditions.
Why The Best?
Deicing products: Even during years when there are salt shortages, Klausing Group has maintained an inventory of deicing products to serve clients. We have relationships with a range of vendors so we never run out of deicer—even during times when the largest snow removal companies in the region have depleted their salt stores. Our clients benefit from our ability to strategically source deicer and the way we maintain those important vendor relationships.
Logistics: Dedicated scouts monitor properties to check in for conditions such as slick spots and puddles so we can respond immediately, even before a storm begins.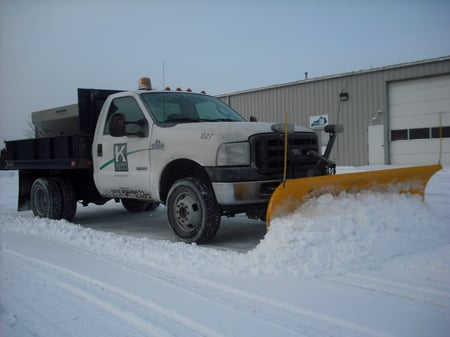 Equipment: We understand the capacity of a piece of equipment or a sidewalk clearing crew, so we assign the appropriate equipment and man-power to keep clients' properties safe and clear. We have a full fleet of heavy-duty trucks, snow plows, skid-steer loaders and additional snow removal equipment—along with mechanics on staff so we can ensure equipment up-time.
Safety: Always find out if your snow removal contractor carries the proper insurance, and that operators are well-trained. The commercial trucks, plows, salt spreaders and skid-steer loaders we use to clear snow can cause property damage when operated negligently. If a company does not have appropriate insurance, you could be liable for damages and injuries. Don't assume a snow removal company carries coverage—ask!
Let's Talk Snow
Now is the time to secure a contract with the best snow removal company in Lexington, Ky., before the white stuff starts flying. And who knows what Mother Nature will bring this year. Call us any time in Lexington at 859-254-0762 and Louisville at 502-264-0127. Or, fill out this simple form to request a proposal.