There's something about summer color in the landscape—a property comes alive with bright pops of vibrant reds, pinks, purples, yellows and variegated foliage that adds texture. Annuals keep the landscape interesting because you can change out varieties every year. Combined with reliable perennials, a combination of plants creates a rich canvas of texture, color and even scents.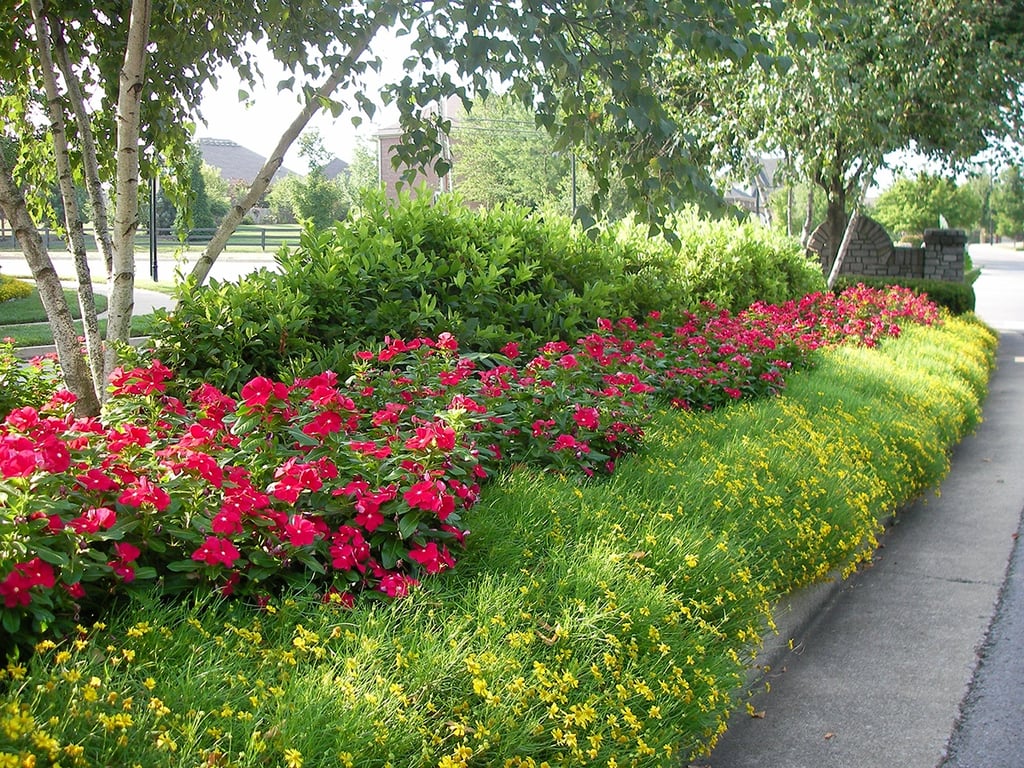 What are the best annuals to plant in Central Kentucky?
After years of experience installing annuals on commercial properties, we have a palette of tried-and-true annuals we love to plant because they are hardy, drought-tolerant and, frankly, pretty tough to ruin. Don't mistake this for no-maintenance; but the following annuals are built to last through the season and generally manage whatever Mother Nature doles out.
Here are our 8 favorite annuals to plant in Kentucky landscapes, and a handful of annuals we stay away from.
#1 Your Basic Begonia
There's nothing fancy about the basic begonia, and perhaps that is why it thrives so readily here in Kentucky. It is one of the best performers for non-irrigated sites and it practically thrives on neglect. What we love about begonias is the bright show of color they offer, and the interesting foliage, with red- or green-leaved varieties available.
#2 Angel Wing Begonia
These begonias come in a variety of colors and blooms in clusters for great visual impact. Their characteristic wing-shaped leaves have speckled or streaked foliage—so it's not just the flowers giving the show. Unlike regular begonias, the angel wing variety thrives on irrigated properties.
#3 Salvia Mystic Spires
The true-blue flowers of this branching salvia grow into long stalks of blooms that last all season. This taller plant pairs well in a landscape bed with low growers, adding height and dimension to the landscape. Also, this compact annual attracts butterflies. This annual is robust and hardy, a reliable performer in Kentucky.
#4 Helenium Dakota Gold
This low-growing plant blooms with golden yellow flowers that pop in the landscape. It's a real show-me annual and stand-out on a commercial property. It performs well in a range of weather conditions, from hot and dry to cool and rainy. It's basically a no-fail annual, and it grows in quickly.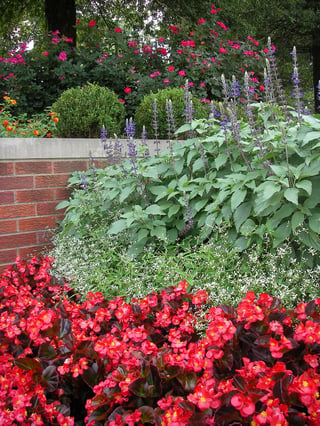 #5 Euphorbia Diamond Frost
This annual appears like a cloud or mist of white flowers and has finely textured foliage. The light, airy texture of Euphorbia Diamond Frost works nicely with other plants in the landscape bed. Plus, the annual is incredibly hardy.
#6 S
un Loving Impatiens Like SunPatiens
If you appreciate shade-loving impatiens, now there is a variety that grows strong in the sun: SunPatiens.
They're easy to grow in heat, humidity, rain or in full sun, and they bloom non-stop spring through fall. This variety is also downy mildew resistant. We recommend SunPatiens for irrigated areas, as they do need regular watering to stay healthy and do not have the drought tolerance of other annuals like begonias.
#7 Angelonia
Also known as summer snapdragon, this plant is virtually an antique on the annual scene. You might remember your grandmother growing the pink, purple, red, blue or white flowers, which stretch up and form branches 1 to 3 feet in height. Angelonia is highly drought-tolerant.
#8 Purple Fountain Grass and Other Foliage
Think beyond flowers and consider annuals that provide colorful, interesting foliage like purple fountain grass. Sprays of burgundy grass topped with fuzzy bloom add height and texture to the landscape. We also love coleus for its sun-tolerance and variety of vibrant foliage. For an even bolder statement, elephant ears stand out.
Annuals to Avoid
Some annuals are challenging in the Kentucky landscape, and these require more care and may not survive even with regular maintenance. Blue Lobelia is a favorite of many people, but it is frost tender and then dies out with our heat and humidity. Kentuckians really only get a one or two month window to enjoy their true blue colors. As an alternative, we recommend using Scaevola.
Another finicky flower is Calibrachoa, also known as miniature petunias. It performs well in hanging baskets but often look bad or dies in landscape beds because of our soil type in the Bluegrass.
A flower with disease problems is Vinca (catharanthus), which suffers from a fungus in the soil and becomes problematic year after year. In fact, you can lose everything you plant in infected areas, and a wet spring makes disease conditions worse. Crop rotation can help manage this disease, or plant them only in hot dry locations. As an alternative to vinca, we recommend using Zinnia Zahara varieties.
Right Plant, Right Place
Selecting annuals that will look great and stay healthy all season in your Kentucky landscape means choosing plants that are drought-resistant, disease-resistant, proven strong growers. There is a wide selection of annuals that perform well in our region.
Talk with your landscape professional about creating a plant palette that includes these hardy options. Also consider ways that annuals can do more in your landscape, such as attracting butterflies and beneficial insects. Remember, our landscapes are so much more than a pretty package. Your grounds are a vibrant ecosystem, and what you choose to plant in the landscape can enhance its value and contribution to the environment.
Let's talk more. Call us any time in Lexington at 859-254-0762 and in Louisville at 502-264-0127. Or, fill out this simple contact form and we'll get in touch with you.