What is a green roof, and how could your building benefit from rooftop vegetation?
You might be wondering this if you've visited cities like Chicago or Washington D.C., where green roofs are replacing some conventional rooftops, particularly on federal buildings with Leadership in Energy and Environmental Design (LEED). Green roofs provide green space in concrete jungles—from rooftop gardens on high-rise buildings to vegetative rooftops that serve to reduce energy expenses.
Here in Central Kentucky, we are seeing green roof projects crop up in spaces including a dorm at the University of Kentucky campus. Also in Lexington, you'll find green roofs on the University of Kentucky Medical Center, Locust Trace Agriscience Center, and Eastern State Hospital. In Louisville, Norton Hospital opted for a green roof, as did the Ali Center and American Life Building. (There's an interesting list of all green roof projects available through the International Greenroof & Greenwall Database.)
Green roofs are defined as a living roof on a building that is in some part covered by vegetation. Green roofs are a type of green infrastructure and they provide ecosystem services. That means they "work" for the environment by providing sustainability benefits, including lessening the burden on stormwater systems, reducing the urban heat island effect, sequestering greenhouse gases and helping to improve air quality.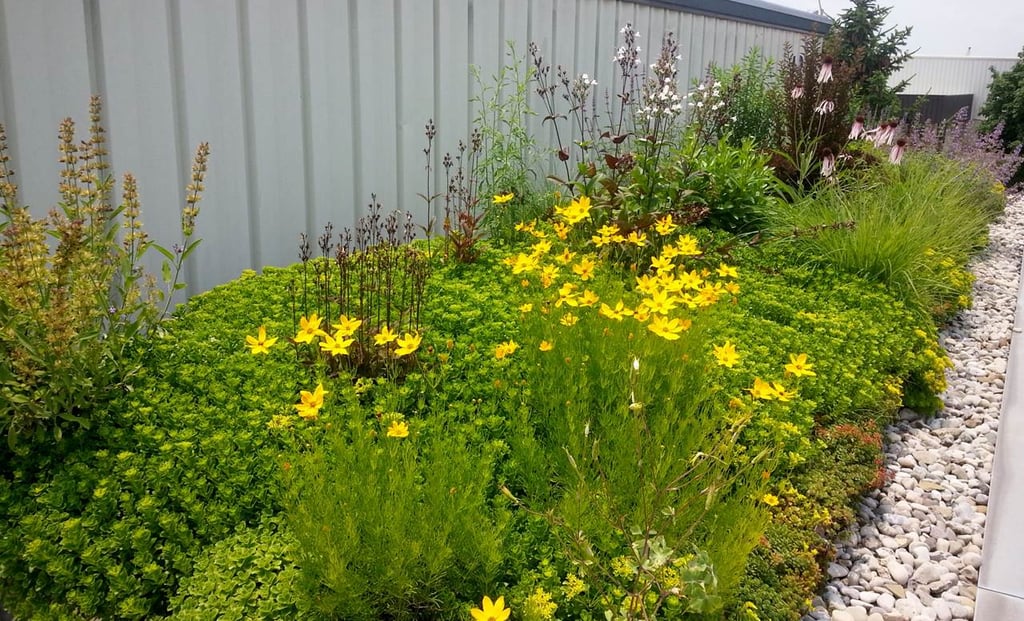 The benefits gained from a green roof vary based on the type of vegetative roof you choose—and that decision depends on your building structure, investment and goals.
Let's explore what green roofs are comprised of, how they function and how a green roof might be appropriate on your Central Kentucky commercial property.
Types of Green Roofs
There are two types of vegetative roof. Extensive green roofs are lightweight, low-maintenance roofs with low water requirements. Plants include sedum, moss, herbs and low-growing succulents. This is a lower cost option than a more complex intensive green roof, which is a system that supports more soil and plant weight.. Extensive green roofs have no more than 200 mm of soil, according to the International Green Roof Association (IGRA).
Intensive green roofs include more robust vegetation and can actually be rooftop garden/park spaces. An intensive green roof system can use up to 1,000 mm of soil, depending on the structure supporting it. Basically, these vegetative roofs include more soil and larger plants including shrubs, grasses and perennials. Because intensive green roofs support more vegetation, they do provide more ecosystem benefits. That said, any type of vegetative roof is a sustainable improvement over traditional roofing that contributes to the urban heat island effect and does nothing to reduce a building's energy expenses.
There is a hybrid green roof that is a step up from the extensive green roof. It is called a semi-intensive green roof and can be up to 250 mm "thick" and require some maintenance and irrigation. The semi-intensive green roof is "designed," so it is a bit more sophisticated than a manufactured sedum mat-based vegetative roof. (Though, it's important to note that any type of green roof is sustainable and will provide ecosystem services that a traditional rooftop simply does not offer.)
Sustainability Benefits: Why Rooftops Should 'Go Green'
The ecosystem benefits gained from green roofs range from energy savings to reducing stormwater infrastructure costs. Because a traditional roof is composed of material that absorbs and radiates heat, the material traps in heat and can increase energy bills while contributing to the urban heat island effect.
Curious as to the benefits a green roof delivers to the environment and bottom line? Here is how the 400 square-foot green roof at Klausing Group provides a range of ecosystem services.
Reduces stormwater infrastructure costs

: Green roofs absorb water and prevent runoff from entering the stormwater systems, which are a huge concern across the country because of their declining state and cost of repair. Infrastructure expense translate to higher taxes; and conversely, green roofs conversely help "absorb" costs.

Air particulate reduction

: The vegetation on green roofs capture air pollution particulates from vehicular traffic and other byproducts of urban life.

Urban heat island reduction

: Green roofs can be cooler than the air temperature, while a conventional rooftop can be 90 degrees warmer, according to an

EPA study

on how green roofs reduce heat islands.

Greenhouse gas reduction and sequestration

: Plants naturally convert carbon dioxide into oxygen, and vegetation helps remove air pollutants.

Habitat creation

: Green roofs attract beneficial insects, birds and butterflies. They attract wildlife to our urban environments. At Klausing Group, our green roof is home to chickadees—a delightful "guest" we enjoy watching. They are a sign that our green roof is a healthy, vibrant habitat.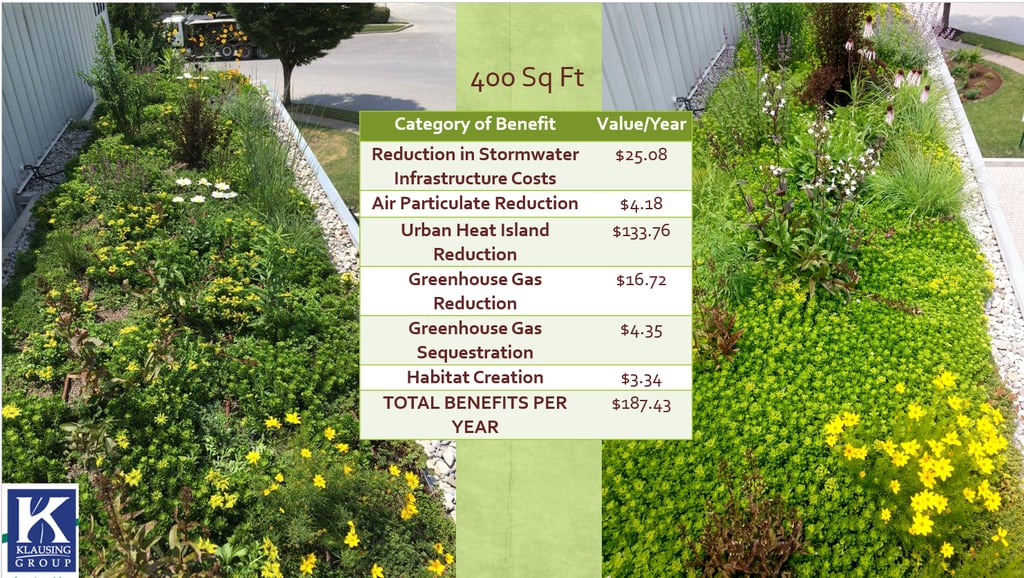 Is Your Building Ready For A Green Roof?
So, is your building suited for a green roof? There are some factors to consider first, and you should discuss these points with an experienced professional. Before installing a green roof, you must know your rooftop's slope and structural load capacity. What are its existing materials, and how are drainage systems configured? What about waterproofing, and is there electrical and water supply in place? What type of environmental conditions does the roof face in terms of sun and wind exposure? Does it allow for access so a green roof can be maintained?
After considering these variables, you and a landscape design/build firm with knowledge of green roofs can determine whether your roof is ready for a green roof or if it needs to be structurally retrofitted. Also, your roof's load capacity will dictate the type of green roof it can support—extensive or intensive.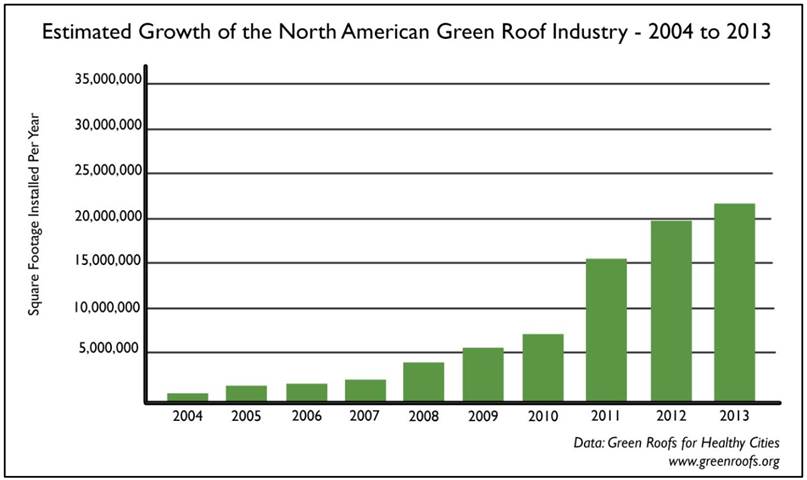 What Type Of Plants Grow On Green Roofs?
Rooftops face weather extremes, which means careful plant selection is necessary for a green roof to thrive. Vegetation is exposed to "high" heat. Because of this and shallow soil, plants must be drought-tolerant and grow successfully with very little moisture. Wind is also a factor, as is exposure to air pollution.
Plant type depends on the type of green roof installed. For extensive green roofs with minimal soil, sedums, succulents and Mediterranean plants like herbs do well. Intensive green roofs can support plants that require more soil and maintenance, including shrubs and grasses.
At Klausing Group, our green roof includes 4 inches of soil in most areas, with a berm of 9 inches of soil that allowed us to plant larger specimens so it serves as a display garden. We installed shrub, Little Devil Ninebark, and grasses including little bluestem and prairie dropseed. These join a palette of perennials: Stone Crop, Catmint, Shasta Daisy, Yarrow and others. Herbs like lavender and culinary sage grow strong because of their drought-tolerance.
Investing In Sustainability: A Green Roof Can Capture Cost Savings And Deliver Environmental Benefits
A green roof is one type of green infrastructure that delivers ecosystem services to your commercial property and community in Central Kentucky. The steps you take to improve the environment on your grounds have a ripple effect, and the green roof is one way to make a positive economical and ecological impact.
We believe your landscape can do more, and we have lots of ideas for ways to accomplish that. Let's talk more. Call us any time in Lexington at 859.254.0762 or Louisville at 502.264.0127. Or, fill out this simple contact form and we'll get in touch with you.