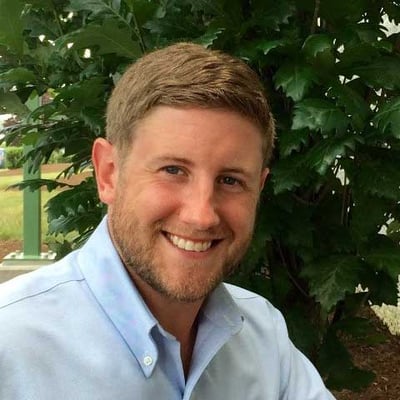 "Life is a garden. Dig it," says Dwight Hammons, borrowing a quote from Joe Dirt that illustrates his own passion for the outdoors and creating meaningful outdoor spaces for clients. Dwight is Klausing Group's Production Manager and a six-year veteran of the Lexington-based commercial landscape management firm.
Dwight always knew he'd pursue a job that led him outside, but he never realized the business and career opportunities that landscape management could offer until he joined Klausing Group. "I knew if I was going to work that being outside would be the ideal situation," Dwight says, relating that he started mowing lawns in high school and then pursued a degree in agricultural economics at University of Kentucky. During summers, he worked part-time landscaping. He always appreciated the fact that he could immediately see the reward for his hard work.
"You get that instant gratification when you finish a project," Dwight says, adding that today, he gains gratification in different ways: by having an opportunity to oversee production at Klausing Group; act as Safety Coordinator; work with a talented team that's making a difference in the environment; and help clients see how their landscapes can do more.
"I love working with a group to achieve a goal, and I'm motivated to help people gain success," Dwight says, relating that he takes a coaching approach to his role. (Off-hours, Dwight is a high school lacrosse coach.)
"I used to think when you were a landscaper, you mowed grass and installed plants and moved on," he continues. "Working here, I have learned what you can do to make a positive impact on the environment."
Climbing the Landscape Career Ladder
Dwight quickly saw the career opportunities at Klausing Group after joining the team as an Assistant Crew Leader in August 2010. "Not only is there a fleet of equipment and clients, there are multiple management and key personnel positions," he relates. "Seeing those positions meant there were opportunities for vertical mobility within the company."
Dwight saw a true, rewarding career path.
He dove into his position, while also volunteering for committee roles, including safety and training. In 2013, Klausing Group created a Safety Coordinator position and invited Dwight to take on that role. "I was in charge of the company's safety policy, safety equipment orders and ensuring the policies were being followed," he relates.
This opportunity sparked an interest in occupational safety, so Dwight attended Eastern Kentucky University in summer 2013 while working at Klausing group to pursue a Safety, Security and Management Masters program. By then, he was serving as Crew Leader. The few classes he took that summer provided knowledge he took back to Klausing Group, he says.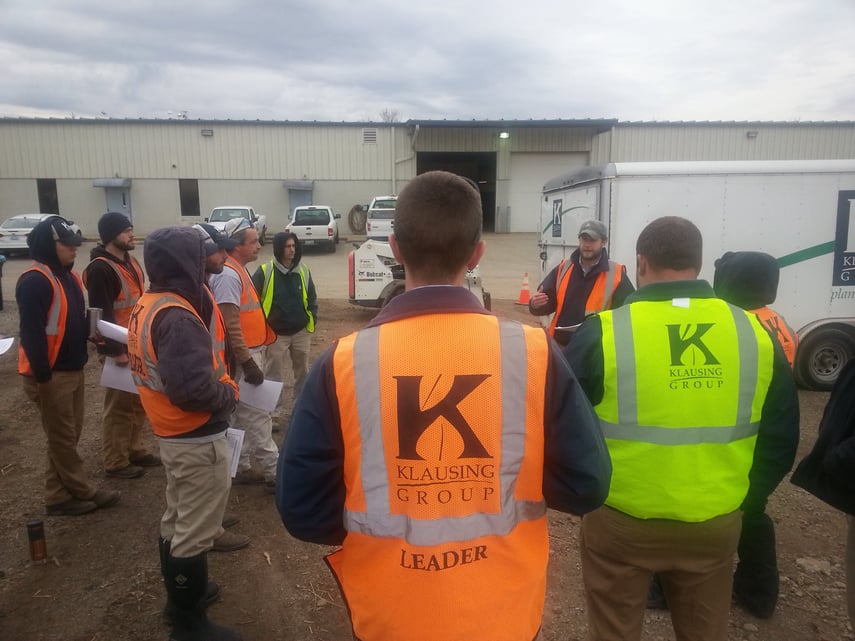 "Klausing Group's commitment to safety emphasized what a strong business culture the company has," he says.
Meanwhile, Dwight continued to climb the career ladder at Klausing Group, taking all opportunities to expand his experience there. He was promoted to Field Supervisor in 2014, rounding out his experience in the business with hands-on customer service and crew leadership duties. In 2015, his role transitioned to Account Manager and he took on more sales responsibilities. Then in February 2017, Dwight was named Production Manager and he maintains his role as Safety Coordinator.
"I enjoy helping clients meet their high standards and finding ways to help them reach their goals in terms of environmental safety," Dwight says. "We come up with some very innovative solutions."
A Typical Day as Production Manager
A typical day for Dwight as Production Manager involves support for the sales team, and providing detailed job instructions to the production teams. He schedules services, purchases materials and makes arrangements for equipment rentals. Dwight also develops relationships with subcontractors and acquires specialists for certain jobs.
"My day often begins with emails and schedule changes," he says. "I discuss the day's routes with maintenance and enhancement field supervisors while I supervise the execution of the morning launch."
Dwight's job is filled with variables, and he likes the variety and challenge of dealing with issues. "My job can change very quickly depending on what's going on in the company on a given day," he says. "I love that we can work together as a team and address challenges, and then we go home at the end of each day feeling like we accomplished something. This relates back to the gratification that initially drew me to a landscaping career."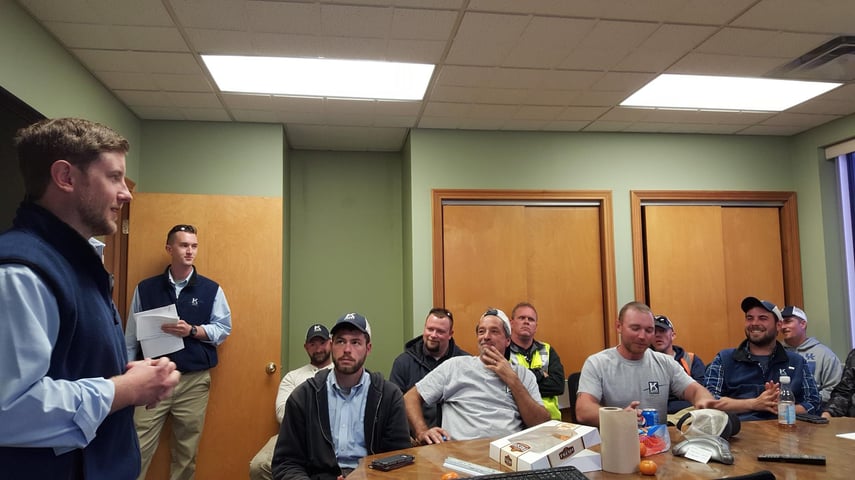 Dwight says his team is a source of joy. Also, the flexibility Klausing Group provides him is a great benefit. Dwight says the continuous learning keeps him sharp, and he is especially interested in the way the company has evolved in the last decade to focus on green infrastructure and creating sustainable natural spaces on commercial properties.
"I believe that nature is one of our greatest assets and that it should be utilized more in this industry," he says. "That is a shared vision at Klausing Group. Just working alongside knowledgeable professionals like Roscoe Klausing and Dan Stever and picking their brains about green infrastructure is giving me a new appreciation of what a landscape can 'do,' and I want to be a part of that vision."
Interested in starting your journey at Klausing Group? Use the button below to apply today.