Klausing Group started with two brothers and a lawn mower. It bought us gas money, but mostly, it granted us independence. And, it felt good to help our neighbors out. Eventually, our side hustle turned into a full-time hustle. Two team members became 10, then 20, 50, and today, over 75. With growth comes great responsibility. And so, somewhere in there, the driving force shifted. We are a primary source of income and health insurance for our employees (and their families). We are stewards of the local landscape. Our ambition toward independence is now an acknowledgment, a reverence of our interdependence.
Our values are core to who we are. These values have always driven our decisions; how we've run our business. But as we grew, so did the need to codify these values. Weaving them into not just the way we talk about our business but the very way we run our business. How we measure success. We began by defining smart landscaping. And this year, we are applying to become a Certified B Corporation. The membership (and certifying process itself) helps us formalize how we do business, but it also gives us a roadmap to do more.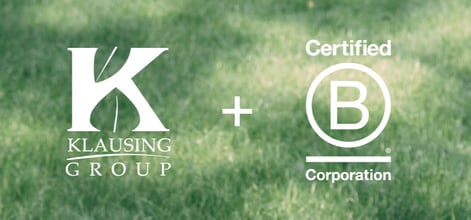 B Corporations are a worldwide coalition of businesses committed to using business as a force for good. The B Corp Certification is a designation that a business meets high standards of verified performance, accountability, and transparency on factors from employee benefits and charitable giving to supply chain practices and input materials. As a B Corp, Patagonia has codified its commitment to environmental responsibility, measuring and reducing carbon emissions and using only environmentally responsible materials. Another B Corporation, Uncommon Goods, has ensured equitable health insurance benefits for employees and their families. Ben & Jerry's, also a B Corporation, has used its platform to put the issues they care about front and center (and put their money behind those issues).
B Lab, the organization's nonprofit arm that conducts the certification process, assesses companies based on five categories: Governance, Workers, Community, Environment, and Customers. Some categories — environment, community — come easy to us. It's the core of what we do. Other categories have given us a roadmap for doing more. As we document our journey, we'll be transparent about all of it.
The two kids who started Klausing Group by mowing lawns could never have imagined that it could make their community a better place. Or lead an industry. But the reality is our communities need more B Corporations. More organizations willing to commit to caring for all stakeholders — in and out of our industry. We hope that bringing transparency to our application process might bring more clarity to how we run our business and inspire others to do the same.
Sign up for our newsletter to follow us on our journey.