"Don't play leapfrog with a unicorn."
Luke Tedder says this with a smile, but underneath his joking exterior lies a wry recognition that the magical allure of running one's own business can hide a certain sharp reality that isn't always fun and games.
It's a reality Luke is more than happy to put behind him. Luke came to Klausing Group after running his own commercial and residential grounds maintenance and snow removal business for six years. His company had employed two full time as well as two seasonal employees, and was pulling in $200K-$250K annually.
From Entrepreneur to Klausing Employee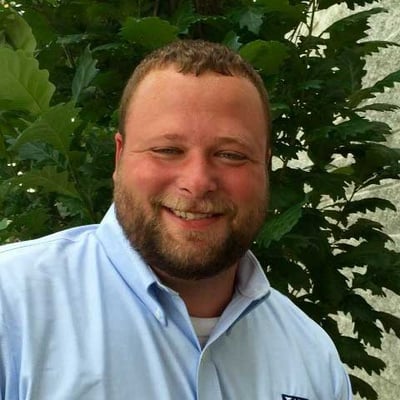 Luke and his business partner had had high hopes for their company. But after a few years of making a good go at it, Luke found himself ready to move on. His co-owner did not share the same vision for future growth as he did, which Luke found frustrating and demotivating. After a year of toying with the idea of pulling the trigger on the business, Luke made the decision to sell his share of the company to his partner.
What happened next speaks volumes. "One year after my departure the company we built was dissolved and is no longer in operation," explains Luke.
But, he's not looking back. Impressed by Klausing Group's reputation as a leader in the green industry as well as Roscoe Klausing's vision for the company, Luke joined Klausing Group in 2014 as a construction crew leader at our Lexington branch. From there, he has held several positions in our company, including his current role as Branch Manager and Business Developer at our Louisville location.
An Opportunity to Shine
Rather than leaving his entrepreneurial vision behind with his business, Luke has found in Klausing Group the opportunity to exercise his natural talent for business and drive towards excellence. He enjoys the challenges he meets each day, whether it be developing and maintaining relationships with customers and fellow employees, prospecting for new work, or dreaming of opening a third grounds maintenance location for the company. He also feels proud to work for an employer who gives back to the communities of which it is a part. On the personal side, Luke appreciates the compensation and benefits he receives at Klausing Group, and the stability it has provided for his family.
Asked the secret to his success, Luke replies, "Coming to work each day with the mindset that my contribution will help the company grow and allow our employees the same opportunities I was given."
Luke's hard work and dedication have certainly not gone unnoticed. We are fortunate and proud to have him working his magic for our team!
Considering Employment?
Luke Tedder is just one of several former business owners who are now thriving at Klausing Group. If you are a hardworking individual with entrepreneurial and landscape industry experience who is considering returning to paid employment, we'd love to hear from you. Just contact us here and let's talk!