The Kentucky Association for Environmental Education (KAEE) has the mission of promoting excellence in environmental education by providing support, resources, and networking opportunities to Kentucky's community of educators. Klausing Group is honored to have been asked to present to this group during their annual fundraising luncheon. This year's event was hosted at The Home of The Innocents in Louisville, KY. The theme of the event was the healing power of environmental education, so the location was very appropriate.
In keeping with the theme of the event, Klausing Group's presentation focused on the practice of horticultural therapy. The title of the talk was "Integrating Human Health and Well-being With Ecosystem Services Through Environmental Education." Highlights included how we interact with green space both indirectly and purposefully. An example of an indirect interaction that provides benefits is the simple ability to see a tree outside of a window in a hospital improving recovery rates. People with direct interaction with green space have even faster recovery rates and require less pain medicine. The healing power of natur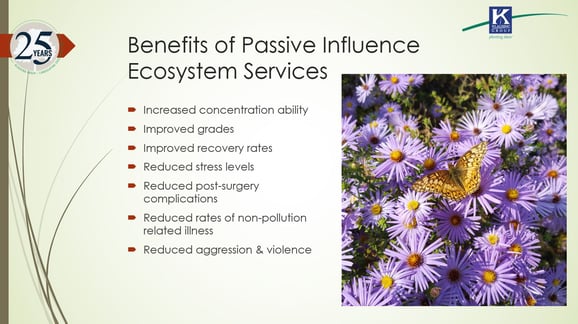 e, indeed.
Being able to reduce mental stress and emotional fatigue during moments of crisis for families through well designed landscapes is an often overlooked part of our health care system. But most modern hospitals now intentionally incorporate these green spaces into their construction plans. And older hospitals are working to find room to add healing gardens. Whether it is called green infrastructure, ecosystem services, or healing gardens; these are landscapes doing more. The benefits affect not only patients and their families, but care providers also gain from spending time in these healing gardens. Nurses and doctors have extremely stressful jobs with long hours, and healing gardens help them reduce stress and gain focus as well. When care providers have access to healing gardens it is good for the patients as well because it can lead to lower rates of error.
When green infrastructure is properly designed to accentuate specific benefits of ecosystem services, we can have a profound impact on human health and well being. There are several elements shared by the most successful healing gardens. They have a ratio between planted space and hard scaping (like patios) in a ratio of greater than 2:1 in favor of planted space. Sitting areas provide privacy and there is no direct line of sight between them. There are trees or man-made structures to provide shade, and turf is kept to a minimum in favor of landscape beds. People of different ages interact with these healing gardens in different ways. Children and the eldery look for stimulation, both socially and physically; while the middle aged seek out quiet and seclusion. It is important for designs to be inclusive of all the landscape's users. And finally, the garden must be well maintained. A poorly maintained healing garden loses effect in proportion to the lack of care given to the landscape.