Lexington-Fayette Urban County Government (LFUCG) hosted a workshop this spring concerning all aspects of post-construction stormwater management. Several divisions of LFUCG were involved in hosting this event: division of engineering, division of water quality, and the division of environmental services. Klausing Group, in conjunction with CDP Engineers, was invited to speak about the green infrastructure projects at their facility in Lexington, KY.
This highly informative event covered a wide range of projects with a strong emphasis on subterranean gray infrastructure. That is a good reminder that most of the stormwater quality controls are hidden beneath the landscape oftentimes under parking lots. Klausing Group's green infrastructure projects were among only a few talks focused on the green side of infrastructure. Having so many people and different professions, who are all involved with different aspects of the stormwater treatment train, gathered together to talk about their specialties greatly contributed to potential increased cross-disciplinary collaboration to improve stormwater quality outcomes.
The presentation on Klausing Group's green infrastructure projects began with Scott Southall of CDP Engineers talking about the history of the project, concerns met during the design process, and difficulties overcome during construction.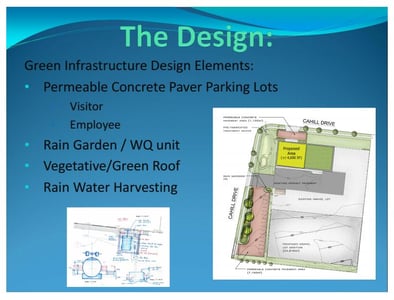 Dan Stever, from Klausing Group, then continued the presentation detailing how to properly perform post-construction maintenance on green infrastructure projects to keep them functioning as planned and also to maximize ecosystem services.
Dan spoke about how effective maintenance begins with proper design, and that green infrastructure has multiple functions beyond stormwater management alone. Creating landscapes that do more requires understanding urban ecosystems and creating habitat for the critters we want. Using plants that thrive on neglect and right-plant-right-place are common basics for most designers. But extending bloom times to 10 months of the year, and knowing which plants have different flower and seed morphology for different insect and bird feeding habits requires more skill.
An often overlooked part of maximizing the ecosystem services of green infrastructure is the proper maintenance the plants. Our desire for a tidy looking landscape is actually counter productive to the functionality of the landscape. For example, butterflies overwinter on dormant plants and leaf litter.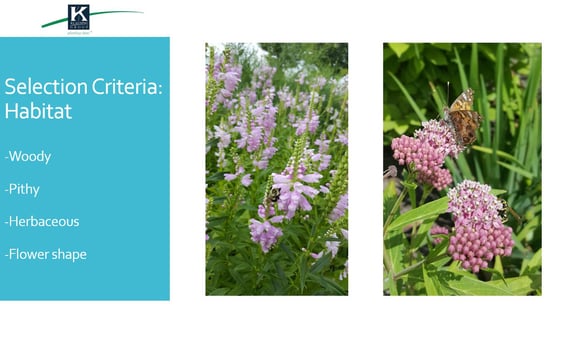 If we cleanup too early in the year, we actually kill the very insects we tried to attract through design. A clean landscape is inhospitable to life. Waiting as long as possible before removing dormant plant material, preferably until May, will provide the best results. There is another benefit to waiting on cleanup services. Dormant plant materials continue to capture litter and debris that would otherwise be washed into the stormwater system in their absence. Plants act as part of the filtration system whether they are green or brown. You can see the presentation in its entirety here.
LFUCG put together a highly informative workshop. As the total number of stormwater quality projects continues to increase at a rapid rate, workshops like this will help ensure our community not only constructs cutting edge infrastructure but also maintains them properly to maximize their effectiveness and extend their functional lifespans.
If you would like to learn more about managing stormwater on your property and landscapes that do more, call us at 859-254-0762 or fill out this form and we will contact you directly.