The National Association of Landscape Professionals (NALP) provides tours at each annual conference, and Klausing Group was chosen along with Henkel Denmark and Darley Gainsborough Farm for the 2016 conference tours. About fifty people were in attendance from places as faraway as Texas, Oregon, and Hawaii; and even some international travelers from Canada and Australia. Klausing Group, Henkel Denmark, and Steven Hillenmeyer Landscapes (who performs landscape services at Darley Gainsborough Farm) are all NALP members.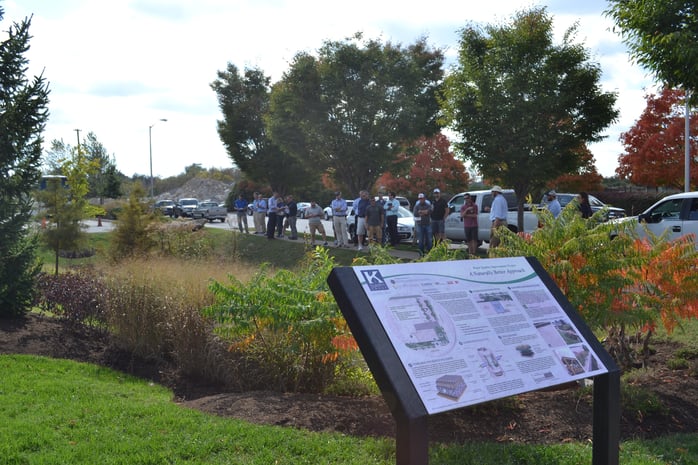 For the tour attendees, the day began with a bus ride from Louisville to Henkel Denmark's facility. From there, the tour stopped at our facility at 1356 Cahill Drive. While the tour provided a behind-the-scenes look at our facility, our tour guides - Dwight Hammons, Dallis Crowe, and Dan Stever - provided insights into our management systems, production systems, and green infrastructure respectively.
Dwight Hammons, Account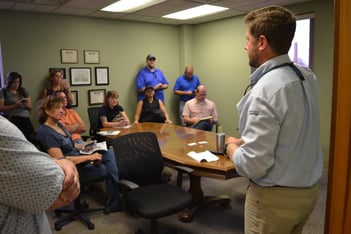 Manager and Safety Coordinator, spoke about creating meetings that work and hold everybody accountable. Of great interest to many attendees was our award winning safety program, which helped us achieve a record of over 1,000 days no lost time accident. Pictured here, Dwight is covering some of the metrics we use to measure performance. If you're not keeping score, how do you know if you're winning?
Production services out of our Lexington Branch keep humming thanks to the guidance of Dallis Crowe, Branch Manager. Part of his tour included talking about how Klausing Group's focus on our target customers allows for uniformity and efficiency in equipment purchasing and truck builds. On display were a maintenance build truck and trailer and a work order build truck. Green infrastructure and landscapes that do more is a focus of Klausing Group's purpose. Each year we host several hundred visitors eager to learn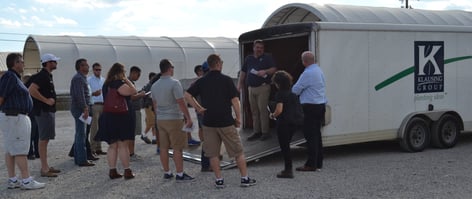 about raingardens, green roofs, permeable pavers, and more. Dan Stever, Senior Horticulturist and Director of Education and Outreach, led this portion of the tour. There was great dialogue as people asked many questions and shared their green infrastructure stories.
A big thank you to the National Association of Landscape Professionals, Henkel Denmark, and Steven Hillenmeyer Landscapes, and Darley Gainsborough Farm.
Also, a special thanks to Jorge Tolentino, our photographer for the event. View a special video he made of the event here.