While we now live in a world where women are consistently occupying—and excelling at—jobs in many fields once considered solely male territory, certain industries are still primarily dominated by men. Landscaping is one of them, but here in northern Kentucky, Klausing Group's Angie Stevens is bucking the trend.
Meet Angie Stevens, Assistant Crew Leader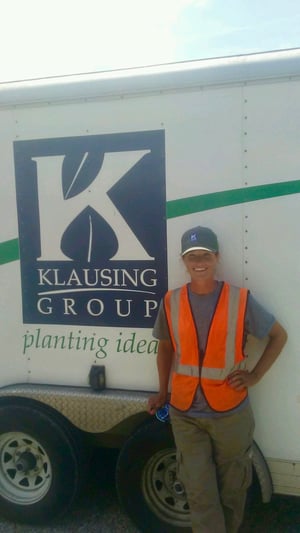 When Angie started with us in February of 2017, she was no stranger to the landscape industry. She has a B.A. in biology and had owned and run her own landscape business for 12 years, offering services ranging from tree care to landscape design, primarily for the residential market. However, a 2016 move to Louisville threw her back into the job market.
Though she landed an office management job right away, she didn't enjoy the work. When Klausing Group's owner and founder, Roscoe Klausing, found Angie's resume online, he offered her a crew position on the spot. Impressed with the company's work ethic and environmental stewardship, she happily left her office job behind.
Angie is currently an Assistant Crew Leader with Klausing Group. In the following interview, she shares her experience as a woman in landscaping:
What has been your experience as a female landscape worker in a male-dominated industry?
Landscaping is really hard work, and sometimes people think you're not as strong or knowledgeable as a woman. Females make up only 11% of this industry. We're sometimes seen as a novelty, and not taken as seriously as we could be. Sometimes women are given easier tasks and not given the responsibilities they're capable of. I haven't experienced that at Klausing Group but I've seen it happen to other women, in this and related industries like construction.
When I first started working here a lot of the guys did want to constantly help me do things. I've always been a bit of a tomgirl, and when that happens to me it's an opportunity to push myself harder and prove myself to them. I'm very competitive with my male co-workers and they know that now. There are times I do need help, but I think that's true of all of us. I'm part of the team, and I help them out, too.
Please tell us about your experience at Klausing Group.
I've learned quite a bit since coming on board with Klausing Group. When I ran my own business I had done mostly residential work. Commercial landscaping, working with large scale companies and landscapes, is a lot different. There is quite a lot that goes into making it run smoothly. A large part of that responsibility falls on the crew leads. We're always making changes in the field to improve efficiency and standard operating procedures. It's a whole different beast, commercial vs residential. I've learned a lot professionally.
I've also learned new equipment. I've been gradually learning the new mowing equipment and things like that. My coworkers have been great. There's mutual respect. I know a lot about landscaping but I didn't know a lot about mowing, and they haven't diminished me because of that. They're patient with me and have been really trying to help me learn in any way they can. And vice versa, anything they don't know about landscaping or plants, I'm always right there to return the favor.
Working in the field with our guys on these larger properties, I've realized the passion they have for mowing. There's so much more to it than just cutting grass, it's not the same as mowing your grandma's lawn on the property. You feel that passion and you hear it, you know they care about what they do. And it's really nice to work with people like that out in the field. It makes for a way better work environment, it really does.
Also, I have built a lot of friendships here. There's a really tight bond in this company, and I really enjoy that.
What are your hopes and dreams professionally?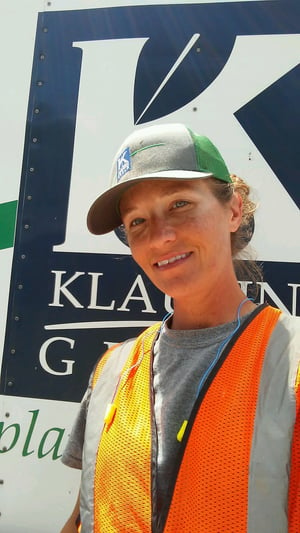 As far as the future is concerned, I enjoy being in the field. I'd love to have a supervisor position, where I can be interacting with the crew members, and also with customers. I really enjoy educating people on the benefits of using a highly professional company, helping them understand why they need our services.
What's your advice for women interested in landscaping as a career?
It's not for every girl, but there are women out there who enjoy this type of work and find it very rewarding. I love my job, I really enjoy being in the field. I don't want to be stuck in the office. There are a lot of benefits to working in landscaping. Physically, I rarely have to go to the gym. My job keeps me in great shape.
There are emotional benefits, too. When we leave a property I know we made an improvement that not just we can see but that others can see and enjoy. It gives all those employees of the properties something beautiful to look at out the window. That's a big stress reliever and it feels really good to know we're helping them in this way. And it's also a great job if you care about the environment, because that's what we're working on every day.
I'd like to encourage more females to take an interest in this industry. There are career opportunities here which are achievable. At the end of the day, the job I do is sometimes very challenging, but dealing with challenges will only make us stronger. I'd like to encourage women to try it out.
What's the secret to your success?
Just being driven. I think you have to want something, if you want a career like this you have to work for it. You have to be driven, and you have to have a lot of heart. A lot of my success also comes from encouragement from my co-workers and my bosses. There's always positive reinforcement. Knowing you're appreciated by your company, that's a large part of feeling successful to me.
Is a Landscaping Career in Your Future?
Klausing Group is an equal opportunity employer. If you are a woman interested in a landscaping career, contact us here to speak with someone about working at Klausing Group, or to request an employment application. We look forward to hearing from you!