Plants that are native to central Kentucky are adapted to the soils and climate in this region, so they perform better than other species. Native plants in Louisville, Ky., thrive with basic landscape maintenance and deliver rich ecosystem benefits. So, the return on investment you'll get from planting natives is significant.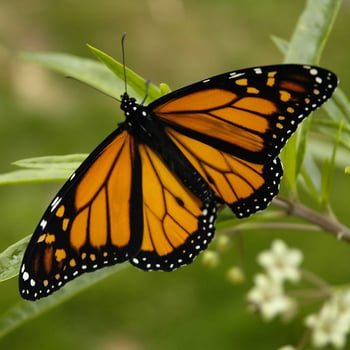 It's true that all plants provide some ecosystem benefits. The basics are photosynthesis, stormwater runoff control, reduction of heat island effect, and positive impact on the habitat.
But native plants give us more of these ecosystem benefits and require less intensive care and resources to perform.
For example, the gingko tree is perfectly fine, and there's nothing wrong with planting it. But it provides very few ecosystem services compared to an oak tree. The ginkgo tree supports less than a dozen different types of caterpillars. The oak, on the other hand, attracts well more than 300 caterpillar species, which support birds and other wildlife. An entire ecosystem is built around the life feeding off of that one, native tree.
So, all plants provide some benefit. But, native plants in Louisville, Ky., "max out" ecosystem services. And in terms of maintenance and resilience, native plants are built to last.
Native Plants: Busting Some Common Myths
With all of the ecosystem benefits described, why would you plant anything but a native plant? There are some myths.
For one, some believe the plants are unattractive—they tend not to show well on a greenhouse shelf. That's because plants are displayed in containers, and native plants usually have a taproot that wants to reach deep down in the soil. A container simply isn't a prime environment for showing off the beauty of a native plant. But the plant will thrive and show its true beauty once placed into the ground.
Also, many people assume that "native" means no maintenance. That is not the case. All plants are living things that require some care to stay healthy. When natives are not maintained at all, they decline just like other plants in the landscape.
Selecting Native Plants For Your Louisville Landscape
Natives are a wise choice for your Louisville, Ky., landscape because they give so much to the ecosystem and to your landscape—and they require little maintenance and "doting." Native plants are sustainable, responsible and plentiful in terms of the variety available. Here are 15 native plants we love.
Plant Aronia (not Burning Bush)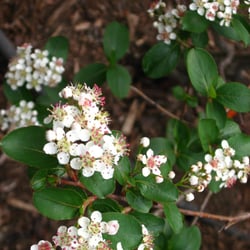 Burning bush tends to get attacked by mites, which is why these plants often decline mid-summer. Also, burning bush is on the invasive species list in Kentucky. We suggest planting aronia instead. Otherwise known a chokeberry, this native plant is available in dwarf varieties so you can select small, compact aronia for the landscape beds on your commercial property.
By choosing the right aronia, you can avoid frequent pruning. Aronia provides brilliant, scarlet fall color, and its flowers attract beneficial insects. Its berries attract birds.
Also, aronia is a "tough" plant that has been growing strong in Kentucky landscapes, despite the ups and downs we have experienced in our climate during the past few years.
Other alternatives to burning bush are winterberry holly and Little Henry sweet spire.
Plant Serviceberry Tree (not Bradford Pear)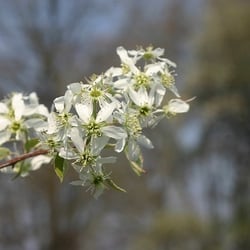 Bradford and callery pear are becoming invasive and tend to be weak trees that are susceptible to damage.
Serviceberry trees offer beautiful blooms and attractive fall color.
Serviceberry develops lacy white flowers in early summer (why it is commonly called Juneberry), and red berries that support birds and other wildlife. The berries are very tasty if you can beat the birds to them.
Another alternative to Bradford pear is the Yellowwood tree.
Plant Allegheny Spurge (not English Ivy or Winter Creeper)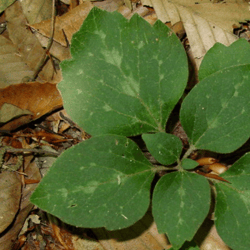 English ivy and winter creeper are problematic in the landscape—and winter creeper is one of the top five damaging plants to our wilderness in central Kentucky.
Rather than these common trailing ground covers, select Allegheny spurge, which thrives in shade. You might also choose one of the various types of phlox. Creeping Oregon grape is also a great alternative to winter creeper.
This plant produces yellow flowers in February and fruits that attract birds.
Plant Switchgrass (not Miscanthus)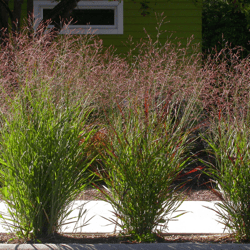 Miscanthus goes by many common names, such as Chinese silver grass, zebra grass and porcupine grass.
This plant is particularly a problem in the Kentucky Gorge, and it escapes into wilderness areas. Instead, choose switchgrass. It comes in many varieties and provides the same appeal.
So does little bluestem, which is a smaller native grass.
Plant Native Plant Alternatives for Louisville, Ky.
Here is a short-list of other native plant alternatives you can choose for your commercial landscape.

Instead of bush honeysuckle

(invasive)

, plant native viburnum

or

elderberry

.

Instead of

the mimosa tree (invasive),

plant a honey locust

or

native sumac

.

Instead of purple loosestrife

(invasive)

, plant blazing star

.

Instead of the princess tree

(invasive)

, plant a native catalpa tree

. (Fishermen love the catalpa worm, which is supposed to be the best bait around.)
There is always a native alternative, and we encourage you to talk with an experienced landscape professional about your options. At Klausing Group, we have been using native plants since our inception. Our experienced staff horticulturalists can advise on the best native plants for your commercial landscape. Let's talk more about how your property can provide more ecosystem services, and what sustainable improvements you can make to get more from your landscape.
Contact us any time in Louisville at 502.264.0127 or in Lexington at 859.254.0762. Or, fill out this simple contact form and we'll get in touch with you.