Why Join Our Team?
At Klausing Group, we offer a structured, safe environment — ripe with opportunities for career and personal growth. We pride ourselves in facilitating a great work-life balance for our employees and enjoy celebrating the successes and achievements as you build your career.
Here are just some of the reasons our people love working here:
Our state of the art equipment and best practices will have you working on the forefront of the industry.
Our award winning safety program helps you return home safe every night.
Our team oriented environment creates an enjoyable place to work.
Our formal training program, educational opportunities and certification programs challenge you.
Our comprehensive benefits package is second to none.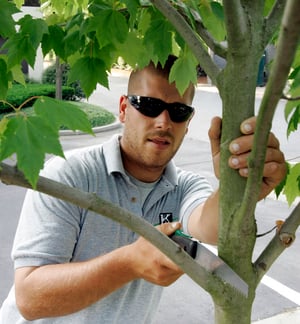 Benefit Packages Include:
Competitive Wages
Direct Deposit
Paid Time Off
Medical & Dental Insurance
Retirement Plan with Employer Match
Uniform Allowance
Tuition Reimbursement
Professional license and certification renewal
Training & Education (65+ hours per year)
At Klausing Group, we place a great deal of emphasis on not only recruiting the best employees, but retaining and promoting from within.
Many applicants come to us with a desire to work outside and use their hands. Others are tired of working for less organized landscaping companies. Whatever your reason is, we welcome your application and are looking forward to learning more about you.
We believe in being 100% transparent at Klausing Group. As such, take a look at what current and past employees have said about us here.
Fill out an online application today and find out how far a career at Klausing Group can take you!
Klausing Group is committed to maintaining a legal workforce and reducing the use of fraudulent work documents. Our company-wide participation in E-Verify ensures that we hire individuals whose employment eligibility has been verified by the Department of Homeland Security and the Social Security Administration. This voluntary step protects our employees, our customers, and jobs for authorized U.S. workers.