Trenton Noel started working in a small garden center in Georgetown called Landscape Alternatives as part of a high school co-op program, and he immediately was drawn to the plants and people. "In the beginning, I did a lot of basic plant maintenance like watering, pruning and arranging displays," he describes.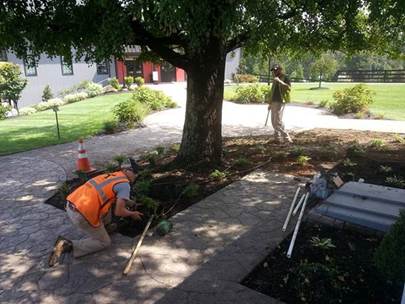 Trenton dedicated weekends to working at the garden center—he grew a real interest in horticulture during that co-op year. When it came time to make decisions about "what's next" after high school, a friend gave him some advice that he took seriously. "A job is something you do. A career is something you would do for free."

With that, Trenton pursued a bachelor's degree in horticulture at Eastern Kentucky University while he continued to work at the garden center. His favorite classes focused on plant identification and he often went to parks and walked the campus, examining the landscapes' plants and flowers.
"We took field trips to see plants at different times of year so we would be able to identify the trees regardless of whether the tree had leaves or if it was dormant.," he relates.
Trenton also enjoyed business courses, and he grew relationships with his professors. By graduation time, he realized that he was ready to take a leap into a green industry career and experience something different than the nursery where he'd been working for the last five years. His professor, Carla Hagan, told Trenton about Klausing Group, where her brother Richard Isaacs works as an irrigation technician.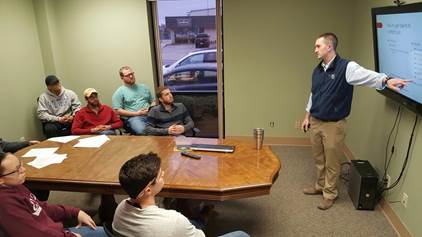 Trenton emailed Roscoe Klausing, and within a couple of days he was invited for a first interview with the construction manager. Klausing Group brought Trenton back for two more interviews then extended an offer. His first day on the job was March 24, 2014.
"I knew that if I wanted to grow in the industry I had to become a part of a growing business," Trenton says, relating that he was initially uncertain about moving from a small nursery business to a progressive commercial landscape maintenance and design/build firm.
He was also excited about the opportunity to expand his horticulture and business interest into the commercial landscape realm
Trenton was able to grow with the company as he learned new skills. He was promoted from crew leader to project manager, learned how to estimate and bid projects, and now Trenton is Klausing Group's construction manager.
"I love the flexibility of this role and there is nothing monotonous about it," he says. "It's constantly changing—and there's always a new challenge where I can learn. We are doing amazing things here."
After Hours with Trenton Noel
How do you like to spend a weekend off?
My wife and I live in Georgetown, Ky., so there are a couple of small places on Main Street where we like to go with friends and family. One is called The Pub, and we enjoy listening to live music there on Saturday nights and sitting on the patio by the fire.
What are some of your hobbies?
We just bought a new home last July, so I've been having fun with lots of remodeling projects like painting, installing new fixtures and flooring. My wife and I are currently working together to plan, design and install a certified monarch waystation in our back yard.
What advice would you give to someone considering joining the Klausing Group team?
It's a great place to be! And, it's worth stepping out of your comfort zone if you are coming from a smaller business. There are many landscaping companies out there but Klausing Group stands out because of our Mission, Vision, and most importantly, our Values. We do more than create curb appeal with shrubs and perennials. We really consider the benefits plants bring to our environment so we're ultimately making a difference.