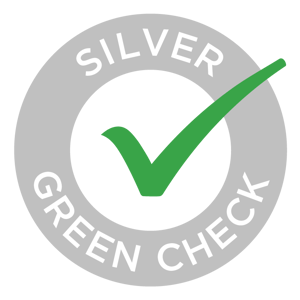 As a company, Klausing Group is firmly dedicated to delivering the highest value possible to our clients. We are also aware that "you can't read the label from the inside of the bottle"—it's difficult if not impossible to achieve the highest standards of excellence without objective outside feedback. For this reason, we view third party certification as an essential quality assurance tool.
Not only are we a Silver Level Green Check certified company and the first Landscape Accredited Company in Kentucky, but we encourage our employees to earn certifications individually, as well. Our current staff hold eight Bachelor of Science Degrees in horticulture, agriculture, and landscape architecture; and one Master of Science Degree in horticulture. We also employ eight Certified Landscape Professionals.
Landscape industry certification enables us to care for properties in accordance with the strictest, most up-to-date industry standards for landscape stewardship and sustainability. Our clients appreciate the peace of mind of knowing their property is being maintained safely, ethically, and in compliance with industry regulations. And, our employees also enjoy the benefits of certification. Let's take a closer look at the certification process and how it impacts employees at Klausing Group.
What Is Landscape Certification?
There are many opportunities for Klausing Group employees to earn recognition as certified landscape professionals. The chemical applicator license or the DOT medical card are usually the first certifications to be earned by employees, as they are the first things required for advancement. Additional required certifications for certain positions are CPR, Blood Borne Pathogens, and First Aid.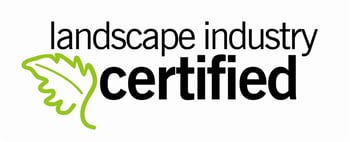 The National Association of Landscape Professionals also offers seven Landscape Industry Certified programs for individuals, covering both technical and management skills. LIC certification is a rigorous process that involves many hours of study and hands-on training in preparation for a full day of practical and written testing. And for those interested in advanced studies, many accredited universities offer degrees in landscape-related fields, including landscape architecture and horticulture.
"The LIC tests are very extensive. It's extremely hard to pass on your first try," says Tyler Taylor, a certified Lawn Care Technician who is currently a Construction Superintendent at Klausing Group. "It's not just one written test. In the one I took there was a maps portion, irrigation portion, turf maintenance portion, and general knowledge portion. And then there were six to eight outside stations. I was tested on a backpack blower, string trimmer, stick edger, aerator, walk behind mower, ride on mower, push mower, and fertilizing a specific area. For each one, you have to walk in, have all your personal protective equipment on, and demonstrate exact best practices for safety checking, operating, and maintaining each piece of equipment."
To keep their certification and landscape industry skills up to date, the LIC certifications require individuals to attend regular safety meetings and earn continuing education credits by attending approved conferences and workshops. LIC certification must be renewed every two years.
How Does Klausing Group Support Our Employees' Certification Efforts?
Klausing Group actively encourages employees to pursue certification. We advocate earning certain certifications, like the DOT and chemical applicator license, as soon as possible. Once a person is employed for a year with us, they become eligible for reimbursements for the cost of tests for certain certifications like the LIC and continuing education classes.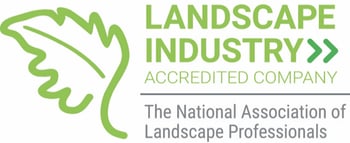 Once a person passes the test for certification, Klausing Group will reimburse the employee for the test. We also award the person a raise, the amount depending upon the certification and the person's position. Some of our positions require degrees or certifications to qualify.
We also help employees prepare for both the LIC and the chemical applicator test by providing study materials for the employee. Some people have difficulty studying or have test anxiety, and we are willing to work with them to help them pass. In the past we have also set up study environments for the hands-on portion of the LIC tests.
Once our employees are certified, Klausing Group helps them maintain their certification by paying for renewals, and even for some educational events that provide CEUs required for maintaining certifications. The Central Kentucky Ornamental and Turf Association (CKOTA) annual meeting is one such conference.
After one year of employment, our employees are also eligible for reimbursement of tuition for continuing education with college courses. The situation must be negotiated prior to enrollment, and Klausing Group may pay up to 100% of the cost of the course if the person earns an A or a B in the class.
How Do Klausing Group Employees Benefit From Landscape Certification?
Why have so many Klausing Group employees elected to invest their time, money, and effort in becoming and remaining landscape industry certified? Ask them, and you will hear a multitude of reasons, including:
Professional excellence

. "

I gained a lot of knowledge," says Tyler Taylor. "A lot of landscapers just do things based on their company's protocols, which aren't always right. I learned what the industry standard was, how to properly do all the hands-on things in the correct manner, and how to do it efficiently and in the best way possible. Studying for the test taught me a lot of things I didn't know about the topic."

Keeping up with the industry. "

The biggest thing for me about certification is that it helps you stay up to date with what's new in the industry," says Grounds Maintenance Manager Kevin Ward. "Having the knowledge and keeping it fresh helps build confidence in your skills. If you don't have something like this you start to forget about going and learning different things. I deal with customers a lot, and they have a lot of questions on each service we do. Because I've been certified, I'm confident in answering their questions."

Promotions and benefits

. "

You do get a pay raise with it also – you're a better employee at that point, you've gained more knowledge and spent time outside of work to get that knowledge, says Tyler Taylor. Klausing Group rewards employees for their willingness and ability to pursue and achieve goals such as landscape certification. Certification also helps open up opportunities for entry-level employees aspiring to move up into management positions.
Klausing Group values dedication and initiative very highly in our employees. If you are the type of person who loves to learn and is always striving to improve professionally and personally, you may be a very good fit for our team. To speak with us about employment opportunities at Klausing Group, contact us here.