Believe it or not, winter is on the way—and while you might equate the season with snow and ice removal services, in Central Kentucky with our cool-season grasses and historically temperate conditions, the landscape still needs our attention. Year-round routine landscape maintenance services are important for a number of reasons. For one, continuously monitoring weed and insect pressure prevents issues from escalating into bigger problems that require costly intervention. Weeds still grow in winter. Also, winter is ideal for hard pruning to rejuvenate plants and promote plant health.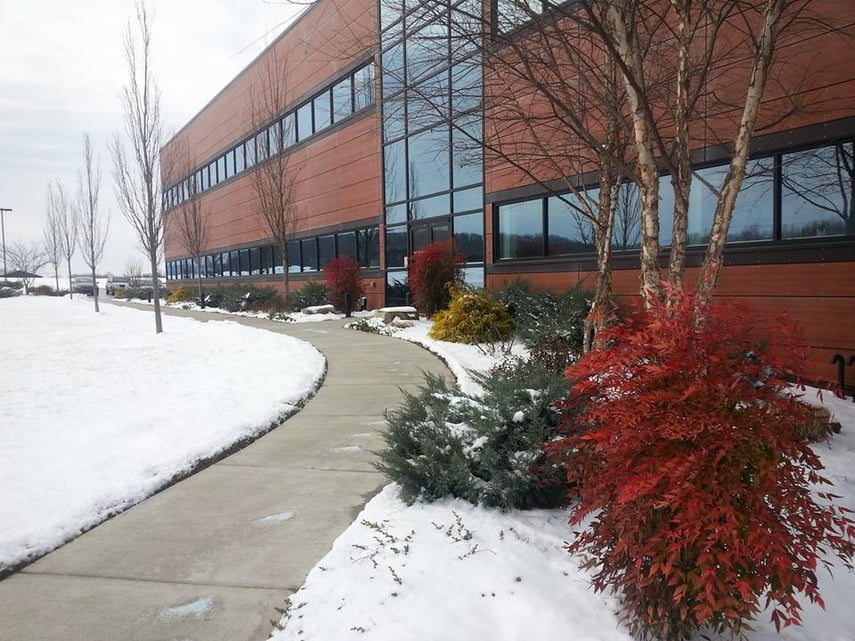 By partnering with a landscape provider that gives your property attention year-round with routine visits, you can stay on top of maintenance tasks that are important for the wellbeing and aesthetics of your landscape. On the other hand, by taking a "winter break" from routine maintenance, you can end up paying more for extensive clean-ups, managing overgrown shrubs, treating disease and even replacing damaged plants.
Which landscape maintenance services should take place during winter? Here are some of the activities our crews perform.
#1 Debris Removal
During winter, we simply find more trash and other debris in the landscape. There is less green plant material growing to trap stuff that blows around, and we also tend to get windier weather with the season's change. It's important to keep up with trash that lands on your commercial property because it can negatively impact your image.
#2 Address Winter Weeds
We usually think of weeds as a summer pain—but there are weeds that specifically grow in wintertime. Cool-season weeds include the common purple deadnettle, some clovers and chickweed, among others. Routine weekly or bi-weekly landscape maintenance will keep winter weeds at bay so you can avoid a major weeding job in spring. If you have winter annuals, overlooking winter weed control can result in the weeds overtaking the flowers and smothering them. By managing weeds during winter, you not only keep the landscape looking attractive you preserve plant health and your investment in the landscape.
#3 Managing Disease
A number of pests and diseases overwinter in the leaf litter beneath plants, particularly under spruce trees and crabapples. Cultural practices are critical for managing disease, and that includes tasks like the removal of leaf debris that can harbor diseases, insect pests, and spider mites. Also, by having a landscape professional on your property regularly throughout winter, we can keep an eye on plants to identify potential disease and prevent damage.
#4 Caring for the Rain Garden
If your property includes a rain garden, avoid cutting back perennials and grasses. Those rain garden plants are the filters that capture floatables (debris, trash) and prevent those from entering the storm water system. Also, rain gardens should be maintained regularly to remove debris that builds up so the plants can do their job.
#5 Schedule Winter Mowing
In Central Kentucky, fescue is the most common turf grass. This cool-season grass goes dormant in the heat of summer but thrives in the mild, wet spring and fall weather. However, as our winters become more mild, the growing season for fescue turf grass extends later into the year. Some years we mow all the way into December. Most landscape maintenance contracts only account for mowing from April through October. An extra two months of mowing can be quite the unexpected expense.
#6 Plan for Hard Pruning
Winter is an ideal time to perform hard pruning on trees and shrubs, while plants are dormant. Hard pruning and shrub reductions can rejuvenate plant material, making room for healthy new growth and ridding plants of diseased, dead and dying limbs. It also shapes up the appearance of a property by cutting back plants to an appropriate scale. We recommend hard pruning for safety and aesthetics.
#7 Install New Landscaping
Winter is actually an ideal time for planting trees and shrubs in Central Kentucky. As long as the ground isn't frozen, we can plant. Also, there can be an opportunity for cost savings for customers who purchase a landscape installation project early in the season but delay installation. Property managers who plan ahead in summer for landscape installation later in the year reap the benefits of the perfect planting season in late fall and beyond.
A Full-Service Provider Is Your Partner All Four Seasons
When you work with a landscape vendor that provides landscape maintenance along with snow and ice management, you get the benefits of consistent service and a single point of contact for outdoor services. This is especially helpful for managing communications, maintaining a budget and having that partner who can be the eyes and ears on your property year-round, truly getting to know your site. Because we work with our clients year-round and perform landscape maintenance in winter, we can maximize the health of the landscape over time and deliver results they can measure.
Let's talk more about why landscape maintenance services are important as we move into winter. And, if you haven't already enlisted in a snow and ice management professional, now's the time to secure a contract. (We'll help you determine what snow services should cost.) By hiring the same professional for both services, you gain a true partner.
Call us any time in Lexington at 859-254-0762 and Louisville at 502-264-0127, or fill out this simple form to request a proposal.