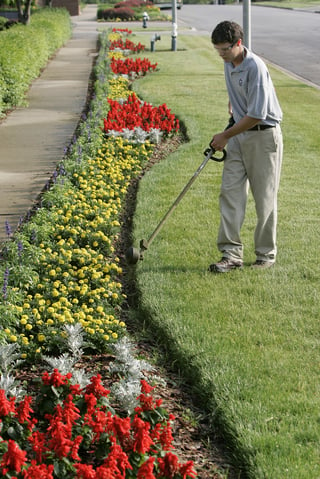 Edging landscape beds creates a clean, defined line that is aesthetically pleasing and makes a property look well maintained. Most facility managers recognize the visual benefits of edging. But there are even more important reasons to edge, especially around trees.
Edging defines a safe zone around tree trunks. By forming and maintaining an edged bed around the base of plants, you will protect them from mechanical damage that occurs when mowers and string trimmers bump against the bark. That damage is virtually unavoidable when there is no edge around trees because landscape crews must get right up against tree trunks to trim back grass.
Mechanical damage is the No. 1 cause of tree health problems. When you protect the bark, you protect the tree.
Beyond aesthetics, here is why you should consider edging, what methods are used to create edges, how often edges should be maintained, and some solutions to common edging challenges.
Why edge landscape beds?
For property managers that are looking for ways to reduce the price of landscape services, they might view bed edging as an "extra."
When value engineering a landscape contract, you might think, "Edging is nice, but is it necessary?"
Certainly, bed edging improves the landscape appearance. But edging is about so much more than looks. Because of the tree health benefits edging provides, among other advantages, we consider this service an integral part of annual landscape maintenance.
Bed edging reduces material loss

. You have probably seen properties where mulch from landscape beds bleeds into the lawn. When bare soil spots are left in beds, this opens up opportunities for weed penetration. (Mulch is an effective weed suppressant.) A defined edge along a landscape bed keeps mulch and landscape materials in place. (Keep in mind, if you're replacing mulch mid-season, this adds a cost that you didn't anticipate in the contract.)
Edging maintains bed shape and form

. Edging prevents turf from encroaching on landscape beds. It also redefines bed lines that naturally erode over time. (This is especially the case on sloped areas where runoff can "blur the lines.") Edging beds keeps shape and form intact for the long-term.
Creating edged tree rings protects plants' trunks

. If there is no

tree

ring around the trunk, mowers and string trimmers must get right up against its base to trim back turf. When bark is damaged, the tree is exposed and vulnerable. Protecting tree trunks from mechanical damage is nearly impossible unless there is an edged bed to act as a buffer.
Edging Methods and Maintenance
Landscape professionals use a couple of different edging methods to create defined bed lines. Spade edging is a manual process using a spade to hand-dig the bed edge.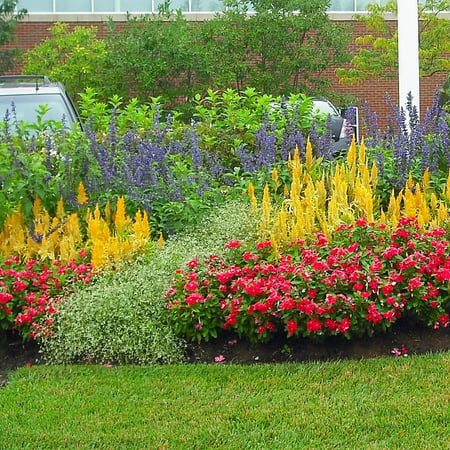 Usually, a 3- to 4-inch edge is sufficient to gain aesthetic and landscape health benefits. Spade edging is helpful in tight spaces where there are curved bed lines, and if there is a risk of cutting other landscape material (with an edging machine).
Edges can also be defined by using an edger. This machine can reduce labor and is ideal for long, relatively straight bed lines that need redefinition.
Edges can be maintained by string trimming on a biweekly basis during the mowing season, or by using a bed redefiner as needed.
Depending on the condition of the edge and its location, it might need to be re-cut annually.
Permanent edging is also an option, and this involves creating a deep edge—usually by using the spade technique—and then installing steel, aluminum, stone, plastic or concrete edging. The cost of permanent edging depends on the material and amount of edging required.
Common Edging Challenges
Do the bed edges on your commercial property seem to vanish? Here are a few common challenges with creating defined edges. (The good news: There are solutions, so your property can gain the aesthetic and landscape health benefits of edging.)


1. Poor turf quality
A natural bed line is created by hand-digging with a spade or using a power edger. The turf's root system is what ultimately maintains the soil form and defines the bed line. When turf is thin or in poor condition, there's nothing to hold the soil in place. Therefore, the bed line can basically "crumble."
Solution: Permanent bed edging that is made from steel or plastic can be appropriately installed after edging. This helps maintain the bed line. Also, a good turf health program will improve the condition of the lawn.


2. Permanent edging is incorrectly installed
Permanent edging is far more expensive than creating a natural edge using spade or mechanical edging techniques. However, once you install permanent edging (if done correctly), it needs only to be done once. If you can see the plastic or steel edging along a bed, then it is not properly installed.
Solution: Permanent edging should align with the grade of the land.


3. Hitting electrical lines
Utilities should always be marked before edging.
Solution: Call 811 BUD before edging so the the landscape professional has this information on record to reference for annual edging.


4. Steep grades
The edges on steep grades tend to "fade" faster because water runoff travels faster on slopes. This causes erosion and can wash out edges. Also, downspouts that discharge into landscape beds can speed up erosion.
Solution: Edges located on slopes will need more maintenance to keep lines clean and defined. Mechanical edging or bed redefining throughout the season will help keep the edge in place.
Edging Protects Your Landscape Investment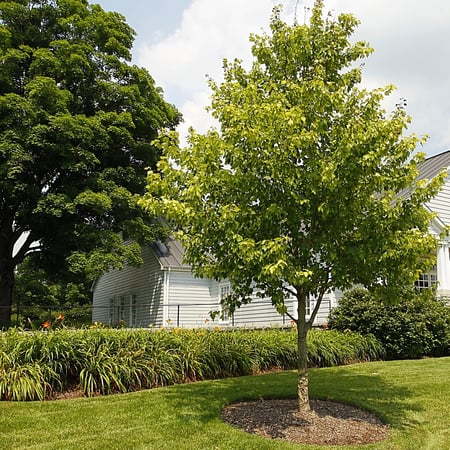 The beauty of your landscape is important—and plant health is what ultimately delivers curb appeal. Edging provides instant gratification because the process redefines bed lines and creates a clean, polished look. But the long-term benefits of edging are what make a measurable impact on the health of your landscape.
Edging protects trees and prevents mulch loss, therefore reducing weed pressure in landscape beds. Edging is the only way to fully protect plant trunks from mechanical damage.
Let's look beyond curb appeal and talk about how edging can improve the overall condition of your landscape. Call us any time in Lexington at 859.254.0762 and Louisville at 502.264.0127.
Or, fill out this simple contact form to request a proposal and we'll get in touch with you.