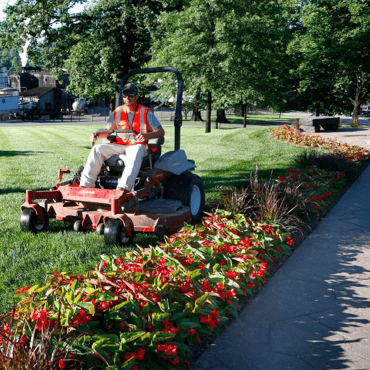 The second-largest city in Kentucky, Lexington is known for its horses and being the heart of the bluegrass region. But to locals, the small businesses and the families who run them are what really make this a great place to live and work.
And when you're looking for a business to partner with, you want to make sure you get the best one for the job. You'll probably consider their years of experience, professionalism, certifications, responsiveness, reputation in the community and if you actually enjoy working with them.
Those are all things we would suggest looking at when you're hiring a landscaper for your commercial property.
5 of the Best Commercial Landscaping Companies in Lexington KY
There are several good landscapers in Lexington, KY, but here are five of the most capable commercial landscaping companies.
Al's Complete Lawn Care
Although a relative newcomer to the commercial landscaping world — having found their start in the residential market — Al's Complete Lawn Care has become known for its work on equine farms. They have created specific management systems just for this property type.
They also offer commercial landscaping services like maintenance, bush hogging, weed control, fertilization, large tree care, grading, landscape enhancement and snow removal.
The company started in 2005 and is owned and operated by Frankfort resident, Alan Sweeney, helping you to not become just a number. Plus, all of their vehicles are wrapped and logoed, so you know when they are on your property — and don't have to deal with unsightly vehicles being an eyesore on your site.
Diamond Landscapes
Started in 1992, Diamond Landscapes is now one of the largest landscape maintenance contractors in Lexington. They manage more than 200 commercial properties including offices, retail centers, restaurants, institutions, medical facilities and multi-family developments. Diamond Landscape also works on horse farms.
In addition to landscape maintenance services, they offer snow and ice removal, landscape design and Christmas decoration installations. Diamond Landscapes reportedly has the largest private fleet of snow removal equipment in Lexington.
Their team includes 75 employees who are trained and/or certified, and six of those are certified lawn and pesticide applicators.
Landscape Workshop (formerly Henkel Denmark)
Owned by the private equity group McKinney Capital out of Birmingham Alabama, Landscape Workshop first entered the Lexington market in 2018 by purchasing Henkel Denmark. McKinney Capital specializes in purchasing service providing companies up to $30 million in size including an electronic supply company, a software company, and a DISH satellite company.
Landscape Workshop provides facility services to commercial property owners. They have branches in 7 states throughout the southeastern United States.
Landmark Landscaping
In business since 2003, Landmark Landscaping is lead by owner/operator Troy Lyons. This company is one of the most focused landscapers in Lexington, serving almost exclusively the multi-family housing market of apartments, condominiums and townhomes.
Troy's background in private gardening and perennial design has served the company well, earning recognition regularly from the Lexington Apartment Association.
Their commercial services include landscape maintenance, lawn care, landscape enhancements and snow removal.
Stephen Hillenmeyer Landscape Services
This Lexington company is the definition of a family business. With 175 years of experience, Stephen Hillenmeyer Landscape Services has done just about everything in the landscape and nursery industries.
They focus on commercial, residential and equine properties. You can see their work on sites like Darley Farms, Three Chimneys Farm and St. Joseph Office Park.
The company does commercial landscaping work like maintenance, chemicals, plant installation, enhancements and snow removal.
+ Plot Landscaping (Formerly Great Lawns)
Josh Sherman founded Great Lawns 15 years ago. For the last one and a half decades, his organization has focused primarily on residential landscape maintenance, serving only a handful of commercial customers. He created a well respected, quality driven organization. Since the first publishing of this blog, Mr. Sherman has joined forces with Keller Ross, former general manager of Henkel Denmark Landscape, to create Plot Landscaping. Together, we expect this highly qualified dou to become a notable player among commercial landscapers. Plot Landscaping, we're rooting for you.
Compare the Best Commercial Landscaping Options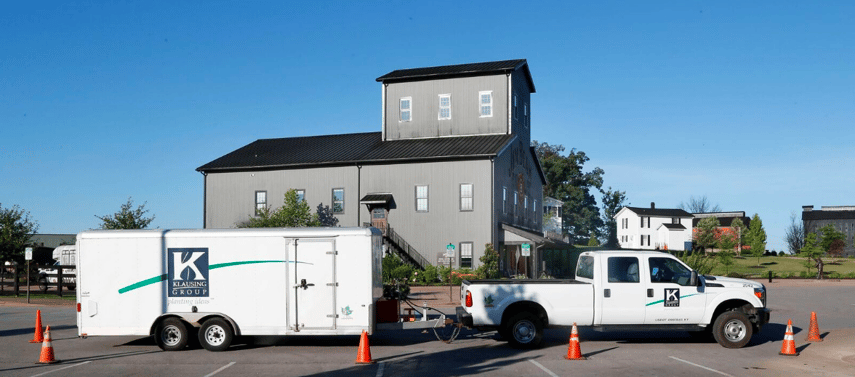 All of these Lexington companies are capable and are an option to manage your commercial property. Each has different strengths, so which is best for your site really depends on your needs, goals and expectations.
So do your homework before you sign a contract with a local company. And be sure to check out Klausing Group during your search.
With more than 20 years working with some of the top commercial properties in Lexington KY, we know a thing or two about what it takes to be one of the best around. Plus, we only work on commercial landscapes, so everything we do is specifically tailored to that market.
Not only do we enhance commercial landscapes using high-quality materials and equipment, but we also look for ways to make the property more environmentally functional, safe and attractive to tenants or employees.
Contact our Lexington KY branch at 859-254-0762, or request a proposal online. We take a proactive, professional approach to everything we do, and we'd love to show you just what we mean.