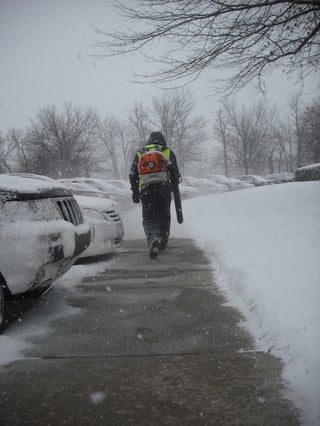 Are you ready for winter? With leaf removal kicking into full gear, we know snowfall might not be top of mind—especially as you're managing a commercial site and transitioning out of the growing season. But now is the time to secure a contract with a snow and ice management company so you can ensure your property will be safe once the weather turns. And, we know in Louisville, Ky., the environmental conditions can fluctuate significantly at this time of year. Don't get caught without a winter plan.
In Louisville, there are a number of reputable snow removal contractors, and you might be wondering how to choose the best vendor for your commercial grounds. As professionals in the field, we network often with industry peers, including competitors—and you'll find a range of quality providers here. Each has strengths and weaknesses.
We want to help you select the best snow removal company for your commercial property so you can get the results you expect. So, here is a round-up of the top six snow removal companies in Louisville, Ky., with information on what makes them the best.
❄ The Lawn Pro
LawnPro has been in business in Louisville since 1994, and Klausing Group has worked as a subcontracting firm on some of its landscaping projects when the company needs an experienced partner. We appreciate the professionalism The LawnPro brings to our industry, and share the company's value of certification. (We're both members of the Snow and Ice Management Association, or SIMA.)
Why The Best?
The LawnPro maintains a high standard of quality, in our opinion. And, it has a fleet of professional equipment. We consider The LawnPro healthy competition.
What To Consider
The LawnPro focuses mostly on commercial snow removal in the Jeffersontown area service area.
❄ Minor and Company Inc.
Minor and Company is one of the best snow removal contractors in Louisville, Ky., and we appreciate their dedication to professionalism. They are a member of SIMA, and have Certified Snow Professionals on staff. This is certification you earn through the association. They tout the ability to clear up to 25 acres of snow in one hour because of a ready fleet of equipment. (This brings to mind: It's always important to ask about equipment and clearing capabilities when interviewing snow contractors.) Minor and Company has been in operation since 1997.
Why The Best?
Minor and Company has a reputation as a quality snow removal contractor for commercial properties, and it has several legacy accounts, which we believe is the result of maintaining high standards. We have found the company easy to work with—they collaborate well with other vendors.
What To Consider
Minor and Company mainly focuses on downtown Louisville, Ky., properties. If you are looking for a year-round landscape maintenance provider, Minor and Company focuses only professional snow and ice clearing, and residential and commercial renovation.
❄ GreenScapes
GreenScapes is similar to Klausing Group in the way it offers four seasons of landscape maintenance services, and it also has a large, modern fleet of snow removal equipment and vehicles. We always suggest that facilities managers ask about a snow contractor's equipment. When machines are not properly maintained, the result is downtime. This means you could be waiting for snow removal services and exposure yourself to liability. GreenScapes is a sound player in the Louisville market and beyond.
Why The Best?
GreenScapes has a large scope and serves a wide geography, extending well beyond Louisville into Lexington and southern Indiana. This can be helpful for owners of multiple properties who want a single service provider to manage different locations. The company has a large fleet and has a reputation for getting the job done.
What To Consider
Size is a benefit, and can also be a potential weak link in terms of response time if larger properties take priority. When talking to snow removal contractors, find out how they monitor their accounts and what response time you can expect.
❄ BrightView
Formerly ValleyCrest and Brickman Group, BrightView is the largest provider of landscaping and snow removal services in Kentucky. Because of its national scope, the company has seemingly unlimited resources to invest in equipment and people. Also, BrightView adheres to corporate best practices to assure consistency in the service it provides.
Why The Best?
Property owners with multiple sites across the state of Kentucky or throughout the country might prefer a single vendor to perform snow removal on all of its properties. Also, BrightView does provide year-round landscape services, and it can be helpful to have a single-source provider—one point of contact.
What To Consider
BrightView has a roster of subcontractors it uses—so while this additional man-power can extend the company's capabilities, there are benefits of hiring a firm where all crews are employees of the company. When hiring a snow removal contractor, ask about how the company hires subcontractors and what credentials it looks for in a sub. You want to be sure the crew performing the service on your commercial property shares the vision of the company you actually hired for the job.
❄ ProTurf
ProTurf has been in business since 1981 and boasts a high customer retention rate, which we believe is the case because of the company's focus on quality. ProTurf has developed great relationships with facilities managers over the years, and is a well-respected snow removal company in Louisville.
Why The Best?
ProTurf tends to be selective in the accounts its serves, which speaks to its focus on quality and ensuring that crews meet customers' expectations. When we hear that a company doesn't just take any job, we believe this is a very good thing because it means the provider wants to be sure they are a fit. ProTuf is known for its professionalism.
What To Consider
While ProTurf offers extensive residential and commercial snow removal services, its intentional growth (selectivity) based on ability to handle scope and uphold quality could set limits.
❄ Klausing Group
Preparation and responsiveness is what sets Klausing Group apart from the other best snow removal companies in Louisville. We are proud of our historic safety track record because we recognize that clients are exposing themselves to potentially serious liabilities if their snow removal company does not clear their properties in a timely, effective manner. We provide immediate response before, during and after snow events—and our snow removal process begins well before a snow event. Our logistics and pre-storm monitoring ensures your property will be safe and clear. And, we partner with facilities managers before the snow season even begins to discuss liabilities on their property, expectations and how we'll manage snow removal to meet their needs.
Why The Best?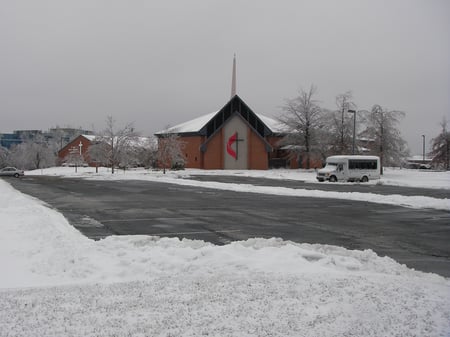 At Klausing Group, we maintain deep relationships with a range of vendors providing de-icing products, so even in salt shortage years, we have the de-icing materials required to serve our clients. Also, we have dedicated scouts in the field who monitor properties to check for conditions such as slick spots so we can immediately respond—even before a storm begins.
Equipment is a critical component of providing high-quality, responsive snow removal services. Klausing Group has a fleet of heavy-duty trucks, skid-steer loaders, plow and ancillary snow removal equipment. Plus, our staff mechanics ensure that equipment and vehicle stay in good condition. (Winter weather is tough on equipment.)
If we can give you one piece of advice when choosing a snow removal contractor, it's this: Be sure the contractor carries the proper insurance and that operators are well-trained. There is significant liability associated with snow removal because of the weather conditions and heavy-duty machinery involved. When you hire a snow contractor who does not follow best practices or carry proper insurance, you are exposing yourself to potentially serious (and costly) liabilities. Always ask about coverage!

Let's Talk Snow. Don't wait until the white stuff starts flying. Secure a contract with a snow removal company now and solidify a plan that addresses response time, equipment and frequency of clearing. Need help figuring this out? Give us a call in Louisville at 502-264-0127 and Lexington at 859-254-0762. Or, fill out this simple form to request a proposal.