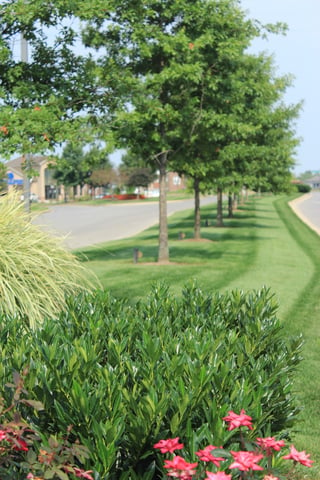 Commercial landscaping companies act as an extension of property owner's team. We're on the grounds frequently to provide service—mowing, trimming, edging, caring for landscape beds and installing annuals. Quite possibly, we know your property better than you do because of all the time we spend caring for it. We're the eyes and ears, proactively pointing out potential issues such as plant health, stormwater runoff concerns, or drainage problems and then mitigating those to maintain the integrity of a property and maximize owners' resources. As a provider of commercial landscaping services, we represent our clients when we're in the field. Our professionalism, performance and overall attitude is a direct reflection of our clients' brands.
That's why we take our role as a commercial landscaper so seriously—and why we chose to focus completely on servicing commercial properties rather than tending to homeowners' properties as well.
What are the benefits of hiring a commercial landscaping firm? Why do we only service commercial properties rather than any lawn and landscape? Let us explain.
Moving To 100% Commercial
When Klausing Group formally incorporated in 2001—a decade after the founders began mowing lawn in Lexington, Ky.—the company strategically chose to focus solely on business to business sales.
The switch was made for several reasons. Internally, the decision made sense for our people. Commercial properties purchase landscaping services throughout the year, including snow services. This allows for a more stable work environment and year-round work. Having work available all year long allows us to attract and retain good people who are looking for careers to provide for their families. Our customers gain the benefits of our long tenured and highly trained field leaders through their execution of quality service, knowledge, and professionalism.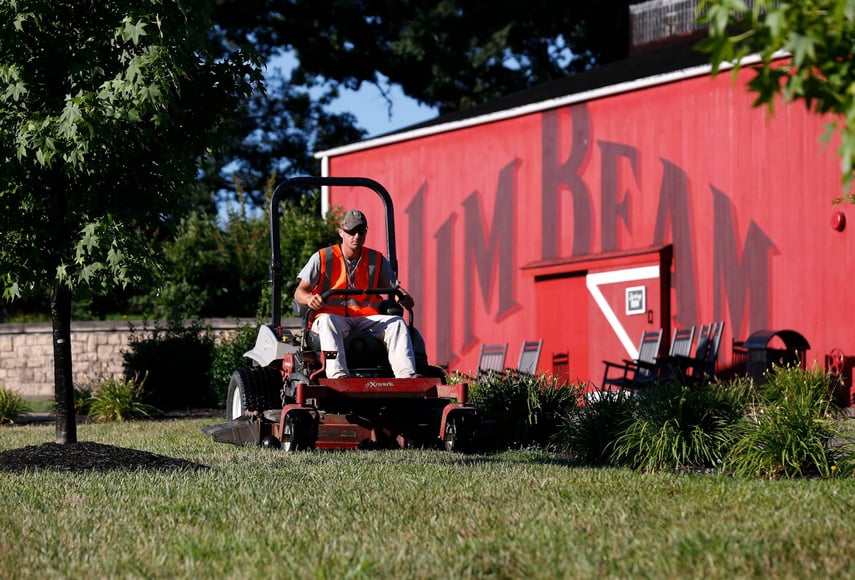 Why Hire A Landscape Company Focused On Commercial Customers?
For our clients, specialization allows Klausing Group to better understand our clients' needs. The landscape needs of a residential lot and a commercial property are not altogether that different other than the scale of work involved. But the big differences are the unique requirements of commercial properties that reach beyond landscape work and involve things like regulation compliance and navigation through bureaucracies.
#1 Value from Economies of Scale
Commercial landscaping requires investing in specific equipment, and we have complete fleets of machines that service commercial accounts. We use the same type of equipment to service all commercial accounts, which allows us flexibility with equipment and also economies of scale when it comes to making equipment purchases. We can pass those savings on to clients through competitive pricing. We can also efficiently utilize our equipment and material resources, which ultimately reduces the cost of commercial landscaping services for property owners and managers.
#2 Compliance With Regulations
Commercial property owners must adhere to stringent requirements and have various regulations they must comply with, and we are their partner in making sure that happens from a landscape services perspective. We can help you with your environmental, health, and safety standards compliance. Klausing Group stays current on federal, state and local regulations—we follow the letter of the law. This is critical, because non-compliance not only costs property owners a lot of money, it can ruin their reputation.
#3 Focus on Safety
Your basic landscape contractor might talk about having safety tailgate meetings, but what is the provider's safety record? What is the company's workers compensation experience modifier (e-mod) rating? An e-mod rating of more than 1 means you are taking a risk with that contractor; and a 1 rating indicates average risk. Klausing Group has a 0.75 e-mod rating, which means we reduce risk for property owners who hire us for landscape projects. Our team members hold OSHA certifications as well as CPR, bloodborne pathogen and first aid certifications.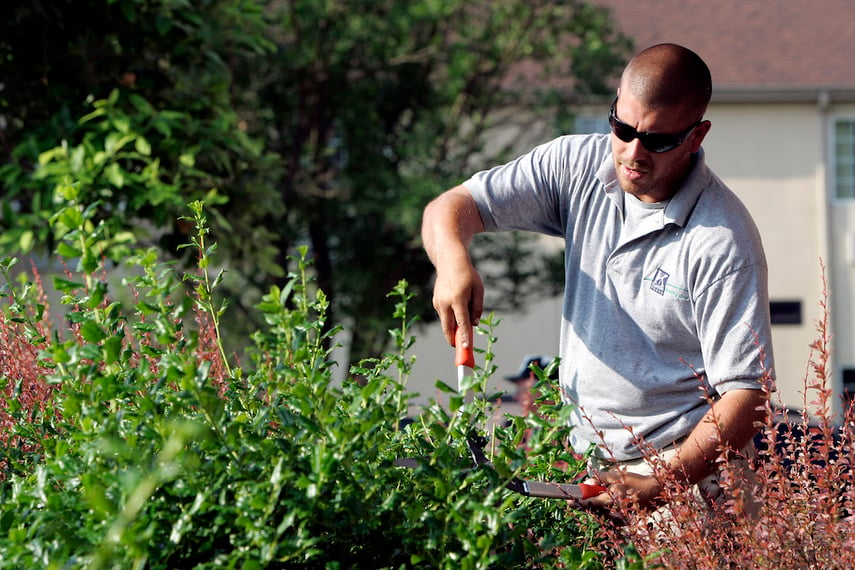 #4 High Level of Certification and Training
It's not hard to get into the landscaping industry if you're mowing residential properties. You need a pickup truck, a mower, an edger and that's about it. This is how many professional firms began, including our founders who started the business when they were still in high school. But companies that grow their standards, professionalism and continue to improve quality focus on industry training and certifications so they can deliver quality service.
At Klausing Group, many of our team members have horticulture degrees and/or are Landscape Industry Certified and we invest in ongoing training by providing tuition reimbursement for industry-related skill-building opportunities. Our employees receive over 60 hours of in-house training annually.
#5 Full Service Provider
Aside from landscape maintenance, what other services can the commercial landscaper provide? This is an important question to ask, because your property will need winter services and renovations, or might require landscape construction. Not only does Klausing Group have the equipment and resources to provide levels of service during snow events that reduces your liability, we also keep snow logs for referencing site conditions and times of services provided to further reduce your risk. Additionally, you might invest in green infrastructure to improve stormwater quality (a rain garden or permeable pavers), or to reduce energy consumption (a green roof). You might be in the position to hire a company to design, build and install a brand-new landscape. Is the commercial landscaper qualified to perform the work?
Klausing Group manages projects from design to completion, and we understand the compliance standards, unique operating procedures and communication systems required for complex construction projects. Can your landscaper acquire a bond? (Ask this question!) Because of our focus on commercial landscaping and partnership with general contractors, Klausing Group has worked toward earning certifications from OSHA, the American Institute of Architects (AIA) and we understand the Construction Specifications Institute's (CSI) MasterFormat work classifications system.
Partnering With Property Owners
At Klausing Group, we're more than the company that shows up every week to maintain the landscape. We partner with our commercial clients and have their best interests in mind. We recognize that the professionalism, performance, value and quality we deliver is a reflection of their brands. And we take this seriously by committing to training, certifications, understanding regulations and ensuring a safe work environment for our crews and the people who live, work and play on the properties we maintain.
Let's talk more about how a commercial landscaping provider should help your landscape do more. Call us any time in Lexington at 859.254.0762 and Louisville at 502.264.0127. Or, fill out this simple contact form and we'll get in touch with you.