How much does commercial landscaping cost, and what impacts the price? Whether you're comparing landscape companies' bids, or re-evaluating your existing provider, you might be wondering: What should it cost to maintain the landscape of my Kentucky commercial property?
There are five main issues that go into figuring the price of landscape maintenance. Let's address those here so you can gain a better understanding of what factors increase pricing—or lower the cost of service. With this knowledge, you will be prepared to address pricing with your landscape provider so the company can align a contract with your expectations and budget.


1. Scope of Landscape Maintenance Services


How many times will the landscape provider mow your property per year? How frequently will the contractor prune trees and shrubs? How often do you expect the landscape crew to remove leaves during the fall? The scope of work directly impacts price. Here are some examples.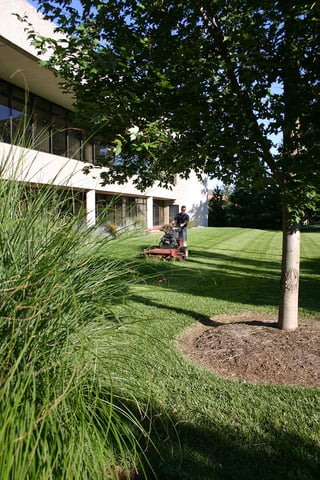 Mowing: A contract that includes 32 mows will cost more than one that promises 26.
Pruning: Frequent pruning comes at a price; and dormant pruning can be an extra cost to the contract, yet is an important service for maintaining plant health.
Fall cleanup: Some facility managers request a single leaf-pickup at the end of the fall season. Others want to keep their properties neat and prefer several leaf clean-ups.
Lawn care: Fertilization requirements vary based on your weed tolerance and expectations for the lawn's appearance and price can fluctuate based on those expectations. Do you want minimal weeds or would you rather spend that money elsewhere?
These expectations, along with type of fertilizer and how frequently it's applied are taken into consideration.
Also, pest pressure is different every year. Lawn care programs might address recurring pests, but charge extra for spot treatments and for addressing special disease issues.
Depending on your goals for the lawn, you may choose a basic lawn care service or a more robust fertilization, weed, disease and pest control program.
Irrigation: Properties with irrigation systems should have monthly maintenance to inspect for leaks and address any functional/efficiency issues. In addition, irrigated lawns require more mowing visits per year.
The take-away: Pricing is directly related to services and frequency. The more services your contract includes, the higher the cost. (Speaking of price, we believe that your landscape provider should add more value to your property, too, and we explain why here.)


2. Landscape Materials Included in the Maintenance Contract


Once you address the scope of work, dig into the contract details and examine materials pricing. This is one area where you'll find pricing variances. For example, there are several types of mulch you can select for your commercial property: hardwood, cedar, pine bark, pine needle, dyed mulch and more. Mulches offer different degrees of longevity, and the costs range from year to year. Also, bagged mulch products cost more than bulk. So, when pricing landscape services, ask about the materials specified and what are the most and least expensive choices.
Note: Just because one type of mulch is more expensive does not mean it is better for your property. A basic, shredded hardwood mulch provides all of the functional plant-health benefits you'd expect from mulch and offer longevity in the landscape.
The take-away: Always weigh the cost-benefit of materials and services that will be included in a landscape maintenance contract.
3. Weather That Extends the Growing Season


Our summers have been longer and wetter here in Louisville and Lexington, Ky., This extends the growing season.
For facility managers that opt for a 28-mow contracts, they might realize later in the season that they need to add more mowing visits to their contract to maintain the appearance of the property. That can mean adding unexpected cost to the maintenance budget.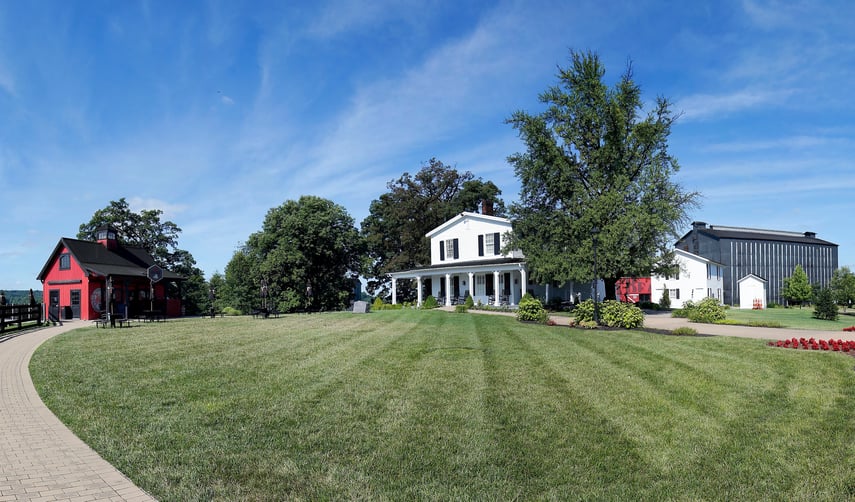 With a 36-week growing season, a 28-mow contract requires the landscape company to stretch out mowing occurrences. If the weather is quite dry in August, this lesser mowing frequency is not a problem. However, some years we mow all the way through December because of temperate weather and plenty of rain.
The take-away: Plan ahead for additional mowing maintenance so unexpected costs don't blow your budget at the end of the season. Many landscape maintenance contracts are built for a "typical" season. But, central Kentucky weather has been anything but typical the past several years.


4. A Landscape that Needs Repair or Upgrading


What is the current status of your commercial property? Are landscape beds overcrowded or overgrown with weeds? Has pruning been neglected? Is the lawn suffering from disease or in need of aeration and overseeding to improve its health and appearance? Does your irrigation system have leaks or breaks that must be addressed? Are you looking to improve the way your landscape "works" by including green infrastructure such as a rain garden, green roof or permeable pavers?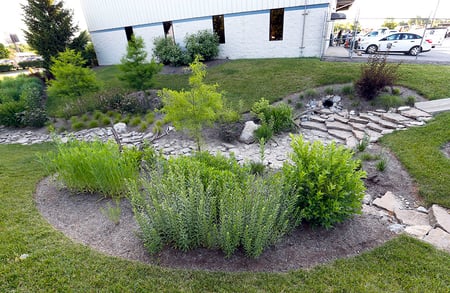 Whether you need to bring a neglected landscape back up to standard, or wish to enhance the way your landscape functions as a sustainable asset, all repair and improvement costs should be figured into your landscape budget.
The take-away: Enhancements costs can increase the initial price of landscape services. But, the investment will pay off by increasing the function, efficiency and overall value of your commercial property.


5. Will You Pay Upfront For Yearly Landscaping?


There's a misconception that by asking for a three-year landscape maintenance contract, you can get a better price than a one-year contract affords. This is not at all the case. Commercial landscape maintenance is a competitive industry. The best contract you can secure is the one you sign now for the current season.
What signing a multiyear contract does allow you to do is lock in your contract price which is often better than putting a contract out to bid each year. Going out to bid year after year can place stress on critical relationships with vendors, and often the time you spend rebidding is not offset by savings.
However, where you might achieve a discount is by paying for annual services upfront. For example, at Klausing Group we offer a sliding discount scale based on payment amount to clients who pay upon signing their contract.
The take-away: Talk to your landscape provider about available discounts for paying in advance.


There's No Secret To Landscape Pricing


Your landscape provider should candidly answer pricing questions and guide you toward practical solutions that align with your budget. Also, transparency is crucial. A contract should clearly spell out the scope of work, frequency of service and price. Qualified, professional landscape providers will conduct thorough site assessments to address issues that might increase the price; and they can suggest opportunities for reducing cost if required.
But beware the suspiciously low bid. Most professionals are pretty close in pricing, so consider it a warning sign when someone's bid is way too low or way too high.
Let's talk more about the questions you should ask before signing a landscape maintenance contract, and how to be sure your RFP reflects the services your property requires. We can also provide guidance on how to budget for landscape extras.
Contact us in Lexington at 859-254-0762 and in Louisville at 502-264-0127. Or, fill out this simple contact form and we'll get in touch with you.